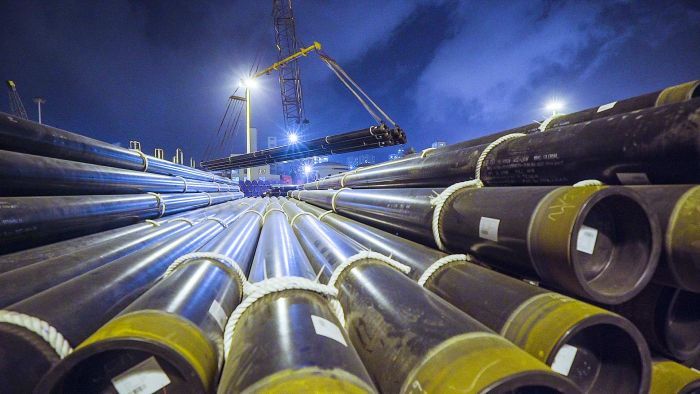 Business investment falls again, but the overall picture is brighter
Updated

August 29, 2019 15:05:51

Some positive signs appear to be emerging in businesses' confidence to invest.
Key points:
Despite a weak headline number of a 0.5pc fall in capex spending over the June quarter, there were some postive signs in the data
Increased spending in plant and equipment and by resources companies were outweighed by falling investment in building
Businesses look more confident about investing with an 10pc increase in spending intentions this year
Despite private capital expenditure falling again over the second quarter, against expectations of a slight improvement, the composition of the investment was an improvement.
An increase in mining investment and spending on equipment, plant and machinery were more than offset by a sharp decline in building investment.
That result was expected given the much weaker than expected quarterly construction data released yesterday, which showed completed work had fallen across all sectors, states and territories.
In seasonally adjusted terms, capex fell 0.5 per cent over the three months to June 30.
Total new investment of $29.2 billion for the quarter was 1 per cent lower than for the same period last year.
Importantly there was a solid increase in the estimate for total business investment this year.
The estimate for capex across the 2019-20 financial year came in at $113.4 billion, a 15 per cent increase on the previous estimate three months ago.
Miners revised up their spending intentions by almost 18 per cent, more than double the usual revision at this stage of the year, while non-mining firms raised their investment intentions by 3 per cent.
Result defies weak confidence
CBA's Belinda Allen said the capex plans were reasonable in spite of the weakness in overall business confidence.
"It's also worth noting that the bulk of the survey was taken with the two interest rate cuts by the RBA at top of mind, but in the middle global trade tensions," Ms Allen said.
"It is also the first result since the Coalition Government was re-elected. It was initially thought this election result would be positive for business plans, but business confidence has deteriorated."
Ms Allen said the slide in business confidence does not appear to have translated yet into a deterioration in investment plans.
Investment still a drag on GDP
UBS economist George Tharenou had a dimmer view of the result.
"Capex intentions for 19/20 imply faster growth ahead, but will likely moderate given trade wars materially escalated post the survey period," Mr Tharenou said.
"Overall, Q2 capex disappointingly fell 0.5 per cent over the quarter, continuing the run of incredibly weak private demand data across construction, hours, home sales, car sales, approvals and retail.
"However, likely solid net exports and public demand will probably 'save' overall growth again."
Mr Tharenou said second quarter GDP, to be released next week, will most likely come in at 1.3 per cent growth over the year, once again well below Reserve Bank expectations.
Topics:
business-economics-and-finance,
First posted

August 29, 2019 12:15:57