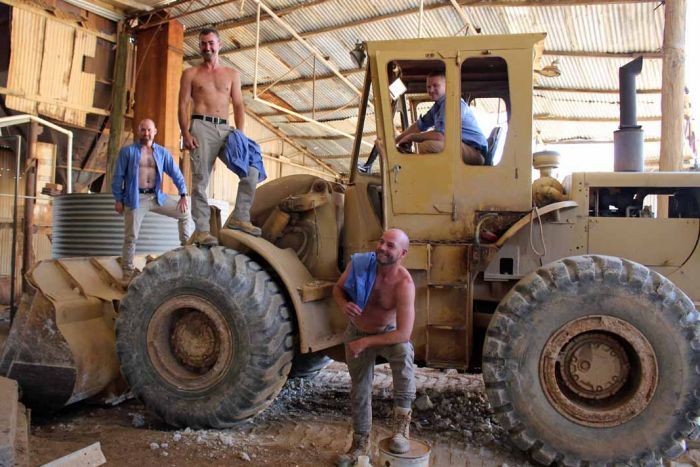 Calendar boy tradies bare all for mental health
Posted

January 12, 2019 15:01:28

A group of tradesmen have stripped off their high-vis and embraced their cheeky side to raise awareness for suicide prevention in regional Western Australia.
Fourteen employees of Perth-based construction company Tyrone Group left little to the imagination for a calendar shoot which also aims to address mental health in the construction industry.
They hope to raise $20,000 before the end of the financial year to donate to Australian charity Rural Aid.
If you or anyone you know needs help:
Off with the kilts
The Tyrone Group calendar shoot was meant to be a very PG-rated affair.
Project manager Cathal Conlon said while initially the group suggested a naked theme, a covered-up version was decided upon.
"At the start we were thinking 'Full Monty' style, let's do this," he said.
"As the idea grew, we realised the potential for it and it was toned down.
"But as the photos started being taken, the guys could actually visualise it and after a few beers the guys reverted back to the nude."
Supervisor Jim McDonald hails from Scotland and chose to slip into his kilt for the camera.
"We were keen to get the kilt on … and then off," Mr McDonald said.
His brother Brian was more than happy to strip and joined in for the January shot.
"I'm always keen to do something good for the community," he said.
"I'm an entrepreneur. I saw a market out there for the old ladies, young ladies and even the men to see a construction worker with their clothes off.
"It was all for a good cause — the photographer had a bit of a laugh."
People in regional towns lack access to services, Senate inquiry finds
The Tyrone Group hopes the money raised from the calendar will go towards establishing a rural and regional mental health foundation in WA.
A Senate inquiry report on the accessibility of mental health services in rural and regional Australia, published in December 2018, suggested that people in rural and remote communities were not accessing mental health services as often as people in urban locations.
It found this was in part because the right care was not available at all, or it was not open when people needed it most.
Tyrone Group director Alistair Adams said over the past few years his company had been taking on a lot of work in regional areas and noticed the lack of services.
"There was one particular hospital that we patched up a few years ago that really hit home to a few of us," he said.
"We saw how dismal some of the health services in regional areas are.
"People in these communities are always the first to give, so this was our way of giving back to them."
Mental health issues 'widespread' in the construction industry
According to a charity dedicated to reducing suicide levels in the construction industry, male construction workers are twice as likely to commit suicide than males in other jobs.
Mates in Construction WA chief executive officer Brad Geatches said between 30 and 35 construction workers lost their lives to suicide in the state each year.
"Construction workers are at a far higher risk because it's a male dominated industry and it's a very challenging industry if you have mental health issues," he said.
"Construction workers have far less employment security and therefore are more likely to have financial issues."
Mr Conlon has witnessed friends and co-workers suffer from a number of mental health issues.
"Unfortunately I could count on two hands the number of people that I know who have taken their own lives," he said.
"I know other people who have mental health issues that are being addressed and others who haven't taken those steps yet to seek help."
Mr McDonald also knows a few workers in the high-pressure industry that have been affected.
"You just see guys on site, maybe they're a little bit depressed, going through money problems, gambling problems, drugs or drink or whatever," he said.
"The statistics are pretty high … and to get that awareness to be able to help them, that's what I'd like to do.
"If it could be prevented, then so be it."
A fun shoot in a regional community
Tyrone Group sought permission to hold the calendar shoot at an abandoned brickworks facility in Katanning, a town almost 300 kilometres south-east of Perth.
Mr Adams enlisted the help of Katanning-based photographer Simona Wells of Studio 23 Photography and all that was left to do, was find a few workers willing to strike a pose.
"It was fantastic," Mr Adams said.
"A few people donated props and we just had to get a bit of artistic guidance and it all came together."
The charity committee is already planning a second fundraising project and Mr Conlon said he hoped people would continue supporting the Tyrone Group's goal.
"The impact might be fleeting because we're a small company and it's just our way of helping out but it's great because there will be other companies following on," he said.
"They're not doing this just because of us but following a model and doing something to promote awareness for mental health.
"We've got a long way to go but if that keeps happening, if people keep continuing to help in that fight, it will be phenomenal."
Topics:
wa,