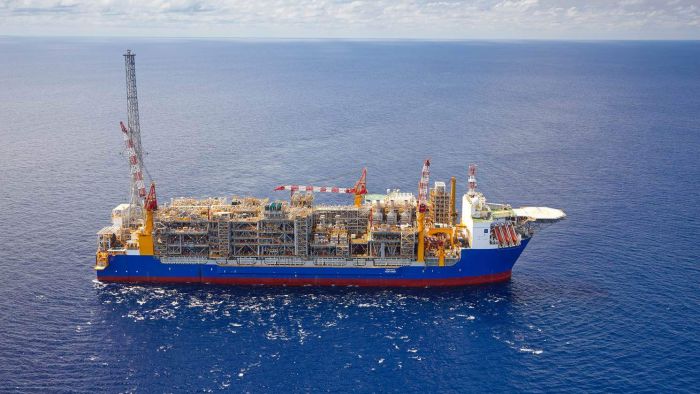 Inpex's first condensate shipment departs Ichthys project
Japanese oil and gas giant Inpex has reached a major milestone with the departure of its first shipment of condensate from its Ichthys LNG project in Western Australia's Browse Basin.
The cargo — a light crude oil that will be refined and turned into fuels — is destined for markets in Asia and signifies the start of the multi-billion-dollar project generating revenue.
"It's a really terrific day for us to celebrate this milestone," Inpex general manager of external affairs Bill Townsend said.
"I think it's especially satisfying for us given it's been 20 years since we were awarded the exploration permit in 1998, and it's been some 18 years since we drilled the exploration well that led to the discovery of the Ichthys field.
"It's been six-and-a-half years since our final investment decision, which means six-and-a-half years of construction to get us to this point.
Speaking to ABC Rural, Mr Townsend said at its peak, the Ichthys project would produce 100,000 barrels of condensate per day.
"Condensate is a very important product for us and certainly contributes to the economics of the project and makes it a more sustainable project in terms of economics," he said.
"The Ichthys Field itself represents the largest liquid hydrocarbon discovery since Bass Strait in the 1960s, so a very significant condensate discovery and one of the largest ever discovered in Australia."
First gas on its way soon
The main game for Inpex's project in the Browse Basin is liquefied natural gas (LNG).
At its peak, the project will produce up to 8.9 million tonnes of LNG per year and up to 1.65 million tonnes of liquefied petroleum gas (LPG) per year.
The company has built the longest subsea pipeline in the southern hemisphere to transport gas from the Browse Basin nearly 900 kilometres to Darwin for processing.
The first shipments of LNG and LPG are expected to start from Darwin later this year.