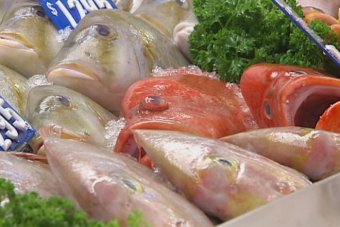 'It would have meant no prawns for Christmas'
Posted

October 15, 2018 15:50:03

The trawl fishing industry is relieved the national offshore regulator has rejected plans for a massive seismic survey off the Victorian coast.
French company CGG Services planned to map 16,850km square of the seabed, east of Melbourne, for oil and gas reserves.
CGG Services applied to the National Offshore Petroleum Safety and Environmental Management Authority (NOPSEMA) for a permit to survey off the coast of Ninety Mile beach over a seven-month period.
The Gippsland Basin has been producing oil and gas for close to 50 years, but it is also home to one of Australia's richest fishing grounds.
Seismic testing involves firing soundwaves into the ocean floor to detect the presence of oil or gas reserves.
Survey would have 'shut down fisheries': Industry head
South East Trawl Fishing Industry Association chief executive Simon Boag said the survey, as it was planned, would have shut down the fishing industry for months, crippling businesses and leading to a seafood shortage.
"The magnitude of the survey would have impacted fish supply and prices in Melbourne and Sydney," Mr Boag said.
"[It's] an area of water about eight times the size of Port Phillip Bay, so it was massive and it was 3D, which means it's very intensive, and it was going to go for seven months.
"It was so big it was going to just cover entire fisheries, and there literally was nowhere else for fishing vessels to go.
"Especially those in Lakes Entrance were extremely anxious about the prospect of facing a survey that was going to cover pretty much the entire south-east Australian fishery."
Lakes Entrance Fishermen's Co-op general management Brad Duncan said there were concerns about the survey itself, but also the impact it could have on the future of the fishery.
Researchers have previously found seismic surveys have a negative impact on scallop, rock lobster and plankton populations.
"It would have meant no prawns for Christmas, no fish for Good Friday for not just this year, but years to come," Mr Duncan said.
"If you're tying your boat up for five months because you can't go out fishing you don't have much chance to make a living.
"We're all breathing a sigh of relief."
Regulator 'not reasonably satisfied' with plans
In its proposal CGG Services said the 3D mapping would take more than six months, between mid-November this year and June 2020, with a four-month break over winter.
NOPSEMA knocked back the plans, stating it was "not reasonably satisfied" CGG Services had met environmental criteria.
The regulator highlighted concerns about the scale of the survey, the level of consultation carried out and the lengths the company would go to reduce the environmental impacts.
A CGG spokesperson the company was continuing with its stakeholder consultation, and was revising its application.
CGG Services has until the second week of November to resubmit its proposal.
Topics: