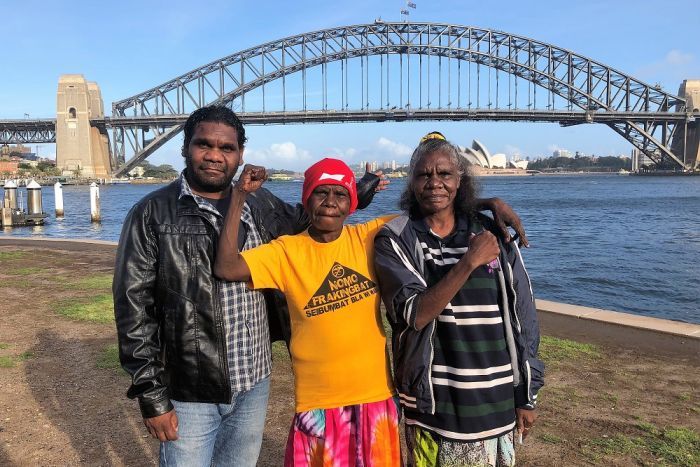 'We don't want fracking on our land': NT traditional owners' concerns dominate Origin Energy AGM
Updated

October 18, 2018 10:41:43

Origin Energy has promised Territory-based Indigenous residents and traditional owners that it will better communicate with them, and will gain their consent before beginning planned gas fracking projects.
Key points:
Origin Energy has committed to improving communication with traditional owners
It came after a group of Indigenous residents from the NT confronted executives at its AGM in Sydney
Traditional owners had hoped to put a resolution to the meeting, but it was not allowed
Traditional owners travelled to the company's annual general meeting in Sydney, and asked questions to the board about planned fracking in the Territory's Beetaloo Basin between Mataranka and Daly Waters.
"We don't want fracking on our land, we don't want fracking through the water system," Alawa traditional owner Stephanie Roberts told the meeting.
"It will poison the land, it will impact the local bush food. The fracking will make your kids sick. We are thinking about the future generation of our young children."
Origin Energy's independent non-executive chairman, Gordon Cairns, responded by saying the company will do everything to mitigate any environmental risks.
"If I thought that fracking would endanger the livelihood of your kids then we shouldn't be doing it," he said.
"I think the problem is that we haven't done a good enough job in sitting down with you and explaining what it is we want to do, the benefits of what we want to do and the risks attached to that which we have mitigated."
Consultation review resolution blocked
The traditional owners had hoped to put a resolution, backed by 100 shareholders, to the meeting, calling on Origin Energy to carry out a review into how and whether it had gained consent for fracking in the Beetaloo Basin.
A resolution to allow Origin Energy's constitution to be changed so that the fracking resolution could be put to the meeting did not get enough shareholder support.
But in pre-voting, 7.7 per cent of Origin Energy shareholders backed the fracking resolution, against the board's advice.
The board did, however, allow the traditional owners and Indigenous residents to address their concerns to the shareholder meeting, and to ask question after question about Origin's consultation and plans for the Beetaloo Basin.
Indigenous resident Nicholas Fitzpatrick told the meeting that although Origin Energy had officially gained consent for its first exploration fracking wells carried out in the Beetaloo Basin, many people across its permit areas still do not understand what is planned in the future, following consultation meetings.
"It needs to be explained properly, all the risks from this industry need to be explained properly, there need to be interpreters explaining this properly, it needs to be done properly," he said.
"If you did that I can guarantee you just about every one of Northern Territory Indigenous people will not sign up to fracking."
Mr Cairns responded by giving the group commitments that Origin Energy will do more to engage with Indigenous people, provide information about fracking, and obtain their consent.
"If Origin Energy has been negligent or remiss in not explaining or engaging I apologise if that's been the case," he said.
"That is not our intention and to the best of my knowledge that is not how we have behaved to date.
"We can rectify that by committing to engaging and discussing with you, as we have done with both your appointed representatives, the Northern Land Council, who assure us, and I can only take their assurance on this, that there has been full consultation, and that the traditional owners have been given the opportunity for free consent."
Mr Cairns said free consent for the Amungee test well in the Beetaloo Basin near Daly Waters was "minuted in our records".
"So something's gone wrong here between what we've done, and what we've committed to doing which is continuous engagement and getting your consent," he said.
"And, there's clearly been, this has slipped through the cracks, because you say you haven't been consulted, and our commitment is to continue that discussion and engagement."
'Legal compliance not enough'
Mr Fitzpatrick also asked Mr Cairns whether Origin could guarantee that aquifers across the Beetaloo Basin would not be contaminated by fracking the company plans to carry out.
Mr Cairns replied: "The scientific evidence, and the experience in the last 40 years, suggest that while there are no cast iron guarantees on anything, you can rest assured that actually the impact on the water table has been thought about and there are measures in place to secure it".
Mr Cairns allowed the traditional owners to present a petition letter to the board, signed by hundreds of the Beetaloo Basin's Indigenous residents, expressing their environmental concerns about fracking and calling on the company to gain their consent before undertaking any more gas activities in the area.
Origin executives told shareholders that the company plans to spend $30 million this financial year in the Beetaloo Basin, and a total of $100 million over the next 18 months.
A majority of the meeting time was dominated by the questions and comments on Northern Territory fracking, prompting Mr Cairns to move to limit the discussion, saying "we've had lots of questions on drilling in the Beetaloo, we don't want to take up all the meeting on one issue".
The traditional owners' attendance at the meeting was organised by the Sydney-based Australian Centre for Corporate Responsibility.
Speaking to the ABC after the meeting, its executive director, Brynn O'Brien, said she felt it had been worthwhile.
"I think the presence of traditional owners at the meeting was very significant, that their concerns were heard by the chair, the board and the company representatives there," she said.
"Where this will get difficult is that despite the commitments made, the company is still saying that simple legal compliance, meeting the requirements of the legislative regime and going through the Northern Land Council is enough.
"And the commitments that Origin has made suggest that they need to go beyond that."
While you're here… are you feeling curious?
Topics:
business-economics-and-finance,
indigenous-aboriginal-and-torres-strait-islander,
First posted

October 17, 2018 18:01:56