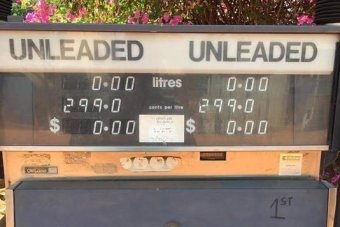 Think $1.70 a litre for fuel is bad? Try paying $2
Posted

October 17, 2018 07:27:27

As the cost of fuel reaches record levels around the country, residents in regional towns are bracing for prices of up to $1.90 a litre for petrol, while diesel is already selling at $2.05.
While the latest price spike has driven metropolitan prices up, regional drivers already paying higher prices face the heaviest hit.
Across the remote north of Western Australia, some bowsers have already reached $1.89, with retailers saying their purchase price has been going up daily.
BP Broome Central manager Kirsten Foy said people were more reluctant to fill up their tanks as they hoped prices would drop.
"We've been getting a pretty negative response from people," she said.
"I usually say my buying price for fuel is going up and I have to increase my prices just to survive."
For people travelling off-road to some of the region's remote communities, prices are creeping well beyond $2 a litre.
Trip to the shops costs $130
Imintji, a small Aboriginal community on the Kimberley's Gibb River Road, is 200 kilometres from the nearest town and has one of the only fuel pumps north of Broome.
The store is selling diesel at $2.05 a litre.
Imintji Aboriginal Corporation chief executive John Bennett said it was a burden for a community that had a low income.
Derby, 200km away along the unsealed Gibb River Road, is the nearest town where people can access a major supermarket, medical services and other key resources.
But the three-hour journey can cost upwards of $130.
"It makes it very difficult for people here in the community just to get into town," he said.
Travel a further 500km north to Kalumburu, one of WA's most isolated communities, and the bowser reads $2.99 for unleaded petrol.
Isolation not the only factor
Transport costs are a key contributor to inflated fuel costs in regional and remote areas, according FuelWatch WA's Ben Dereki.
"But there are a host of different reasons that contribute to fuel costs," he said.
Mr Dereki said factors underpinning fuels prices across the country were beyond the control of consumers.
He said the value of the Australian dollar had dropped and the price of oil was increasing.
"There is a reasonable amount of unrest around oil sanctions on Iraq and there are supply issues coming from Venezuela," Mr Dereki said.
"There have also recently been some interesting political issues going on around the alleged death of the Saudi journalist."
For all Australians — from the remote Kimberley to Sydney — Mr Dereki says prices were not going to improve anytime soon.
"Over the last eight months, and particularly in the last weeks, we've seen prices reach a record high," he said.
"As that trickles out to the regions, we won't see a drop in prices the near future."
Topics:
business-economics-and-finance,