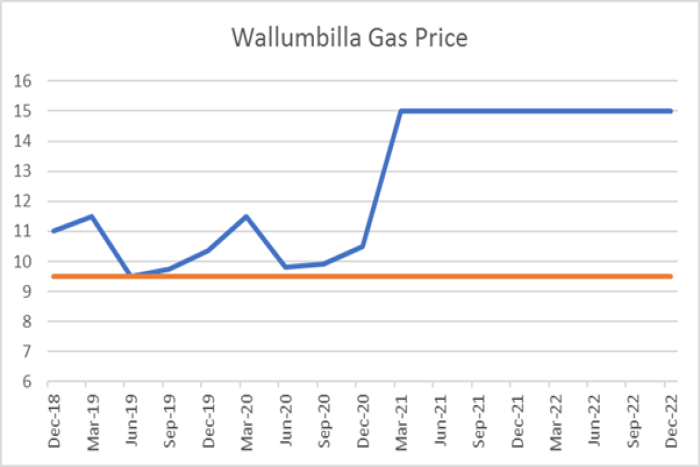 Gas reservation may be needed to lower prices, save manufacturers: ACCC chair
Updated

October 19, 2018 12:30:33

In an extraordinary move, the competition regulator has backflipped and joined the chorus for a gas reservation policy on the east coast to keep a lid on prices and save key manufacturers from closure.
Australian Competition and Consumer Commission (ACCC) chair Rod Sims is an advocate for free markets and originally thought a policy to reserve some gas production for domestic use was unnecessary interference.
However, he now appears to have had a change of heart.
"Before the [LNG] gas plants were built there were a lot of people, including myself, who said we shouldn't reserve gas, that interrupts the market," he told ABC TV's The Business.
"I think what we hadn't seen, what I hadn't seen, is the fact that we've got three large LNG producers when we really only had gas for two-and-a-half.
"We've also got the moratorium or bans on gas in fact in Victoria and in virtual ban in New South Wales.
"So, with all that and given the pain that it's causing, I think if there was more gas found then making sure it flows to domestic uses would make a lot of sense."
This call for a domestic reservation policy on new gas fields is one that will be welcomed by many gas and energy-intensive manufacturers, which are struggling to stay afloat in a rising tide of gas prices and supply shortages.
Fertiliser, chemicals and explosives manufacturer Incitec Pivot is one of those hardest hit.
"We pay some of the highest prices in the world for natural gas," the company's chief executive, Jeanne Johns, said.
The company's Gibson Island plant is particularly vulnerable, because Incitec said it cannot get gas at any price.
"We need affordable gas to keep our gas plant open," Ms John explained.
"We've got 200 direct jobs there, and 250 indirect jobs — it's an incredibly important base of the economy and an important plant for us and we don't want to close that plant and send our jobs overseas."
Incitec Pivot has other operations up and down the east coast, with close to 2,000 employees in total, and the company says all are under pressure due to the high gas price.
"We have gas on contract up through 2019, and beyond that we have no gas contract at any price," Ms John added.
"We're looking to resolve that in the coming months but, if we're not able to resolve it, unfortunately we will be in a position that we need to shut the plant."
It's not just Incitec Pivot and other companies in Queensland short of gas.
"Particularly in the south, we've got a lot of manufacturing industry, they're paying up to $4 more than really they should be, if we had more supply," said Rod Sims.
"The only way to get prices down is to get more gas down south."
Last year, the federal government gave itself new powers to restrict east coast gas exports to ensure the domestic market was properly supplied.
Resources Minister Matt Canavan continues to defend the policy, despite manufacturers telling the ABC they are struggling to get enough gas, let alone at a manageable price.
"Let's look at the facts here, the price of gas at Wallumbilla — which is a gas market, gas hub, near Roma in western Queensland, it sets sort of a benchmark price now for eastern Australia — it's sitting just below $9.50/gigajoule," Mr Canavan said.
"The price prevailing in north-east Asia is between $13-14/gigajoule, so our prices are much lower than those in Asia — that's a complete turnaround from early last year."
However, data shows the Wallumbilla gas prices are at $11/gigajoule and won't return to $9.50 until mid next year, before sharply rising again to peaks of $15.
Minister Canavan told The Business the current policy is a gas reservation in "all but name" and, in any case, he says an official reservation policy is beyond the control of the federal government.
"The Commonwealth government really can't introduce a real reservation policy as it's normally thought of, because we can't control the gas that's onshore in Australia, that's a matter for the state and territories," he said.
"I do welcome the new moves of the Queensland government to introduce a limited form of reservation policy across some tenements."
Meanwhile, federal Labor is promising to toughen up current export controls by introducing a permanent trigger that can be pulled when prices are too high, not only when a shortfall is forecast.
But it is cold comfort for manufacturers who are feeling the pain of higher prices now.
"We've been really clear with the government … it's clear that the voluntary efforts just haven't worked and so we're asking for stronger efforts," said Incitec Pivot chief executive Jeanne Johns.
"I always try and be optimistic because I have to be. I have a plant and I have a workforce that relies on me advocating I'm to keep their jobs here in Australia, so I'll continue to be optimistic about it."
Topics:
business-economics-and-finance,
First posted

October 18, 2018 18:14:50