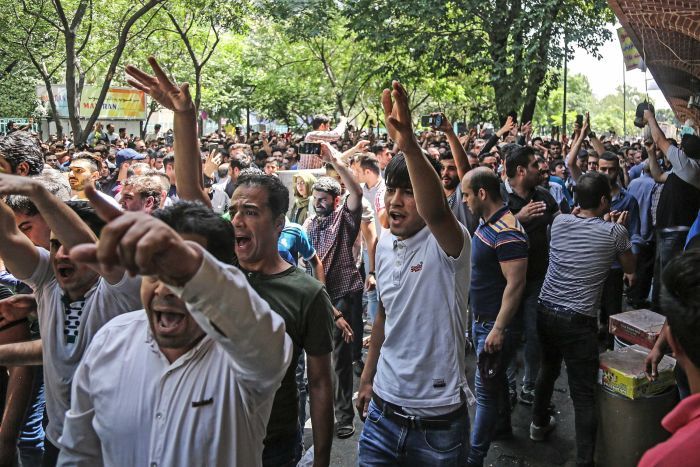 US targets arms program with strongest sanctions since scrapping Iran deal
Updated

November 03, 2018 12:31:35

The Trump administration has announced it has restored sanctions on Iran's vital oil industry as the Middle-Eastern country grapples with an economic crisis that has sparked sporadic protests over rising prices, corruption and unemployment.
Key points:
US imposes second round of sanctions against Iran since May
Mr Trump says sanctions are aimed to force Iran to change its support for militant groups
Iranians expect prices of daily essentials to rise
The oil sanctions will come into effect on Monday and will target Iran's largest source of revenue in the most punishing action taken since the Trump administration withdrew from the 2015 nuclear agreement in May.
The decision will also affect Iranian shipping and financial transactions.
It is the second lot of sanctions imposed since May, after the US targeted Iran's automotive sector, financial transactions involving US dollars and the purchase of commercial airplanes and metals, including gold.
The White House insists the sanctions are not aimed at toppling the Islamic Republic, but at forcing Iran to dramatically alter its policies in the region, including its support for militant groups across the Middle East and its development of ballistic missiles.
The UN nuclear agency says Iran is complying with the nuclear deal.
Iran economy suffering due to sanctions
The renewed sanctions have already taken a heavy toll, with Iran's currency, the rial, losing half its value since April and the prices of fruit, poultry, eggs and milk skyrocketing.
Protests erupted across the country in December, with some demonstrators chanting against the Government and clashing with police.
Sporadic demonstrations have been held in recent months, including strikes by workers, teachers and truck drivers.
"All the prices are going higher every day … I cannot imagine what will happen after [new sanctions are imposed]," elementary school teacher and father of three, Pejman Sarafnejad, 43, said.
"I am scared. I am worried. I am desperate.
"I cannot even buy rice to feed my children or pay my rent."
Iran's Foreign Ministry spokesman Bahram Qasemi told state TV on Friday that the Government was not concerned with the new sanctions.
"America will not be able to carry out any measure against our great and brave nation … We have the knowledge and the capability to manage the country's economic affairs," he said.
"The new US sanctions will mostly have psychological effects."
The nuclear accord struck under the Obama administration, which was also signed by Britain, France, Germany, China and Russia, lifted crippling international sanctions in exchange for Iran curbing its nuclear program.
Western countries had long suspected Iran's nuclear program masked the covert pursuit of atomic weapons, but Iran has denied these allegations and always insisted its nuclear activities were for energy and other peaceful purposes.
After the agreement took effect in 2016, Iran began exporting its oil more freely and signed billion-dollar agreements with Airbus, Boeing and other Western firms.
But the legacy of decades of sanctions and economic mismanagement remained, and the nuclear deal's future was thrown into uncertainty with the election of President Donald Trump, who had repeatedly vowed to exit the deal and finally withdrew in May.
Starting on Monday, the Trump administration has promised that companies which fail to comply with the sanctions will be barred from doing business in the US.
Mr Trump announced the sanctions from his Twitter account with a Game of Thrones-referencing meme.
Washington to grant waivers for selected 'jurisdictions'
Eight jurisdictions have been granted a temporary waiver to import Iranian oil, Washington confirmed, although US Secretary of State Mike Pompeo did not name the eight.
However, he said the European Union as a whole, which has 28 members, would not receive a waiver.
Turkish Energy Minister Fatih Donmez said Turkey had been told it would be granted a waiver.
India, Iraq and South Korea were also on the list, a source familiar with the matter who spoke on condition of anonymity said.
In recent weeks, Iran's President Hassan Rouhani had tried to reassure the public, saying the worst has already come to pass and the Government was working on ways to evade the new sanctions.
But in a televised Cabinet meeting on Wednesday, he acknowledged that "the situation was hard for people in recent months, and it may be hard in the next several months, too".
"The government will utilise its entire capabilities to alleviate the problems," he added.
In an effort to circumvent the sanctions, Iran began selling some of its oil in an energy stock exchange on Sunday.
Iran's Oil Minister Bijan Zanganeh said 280,000 barrels were sold on the IRENEX exchange as of Wednesday and that 720,000 barrels will be provided later.
But the 1 million barrels a day Iran intends to sell in the exchange, which foreign dealers can access, is down on the peak 2.5 million barrels a day that Iran sold before the Trump administration announced the re-imposition of sanctions.
European countries, which remain committed to the nuclear deal, have discussed taking measures that would shield European companies from the US sanctions and allow them to keep doing business in Iran.
But thus far they have been unable to prevent an exodus of major firms, including Boeing and Airbus, which suspended the aircraft purchases.
General Electric, Maersk, Peugeot, Renault, Siemens and Total have also cancelled business deals in Iran, according to the Washington-based Atlantic Council.
Despite the unravelling of the nuclear deal, Iran is still complying with it and appears to be waiting out Mr Trump, hoping his successor re-joins the agreement.
In the meantime, the renewed sanctions risk further undermining Mr Rouhani, a relative moderate, and strengthening hard-liners distrustful of the West, the International Crisis Group said in a report this week.
"The alternative to both sides taking a step back from the escalatory path is a sanctions regime that penalises Iran and the Iranian people, but does not enhance peace and security in the region and could well lead to war."
AP/Reuters
Topics:
First posted

November 03, 2018 06:01:02