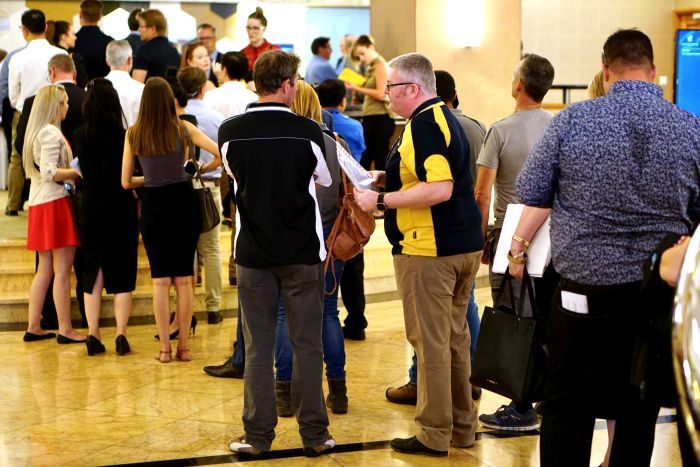 New laws give more protection for subbies — if the company doesn't collapse
Posted

December 04, 2018 17:28:49

The WA Government will increase protections for subcontractors on government projects, by placing payments in secure bank accounts to ensure they flow down the subcontracting chain.
Key points:
Payments to contractors will be secured in bank accounts
A new unit will be established to be a "cop on the beat" policing contracts
But the measures won't protect in the case of corporate collapse
It says this would help ensure subcontractors were paid and would improve the speed and transparency of payments, after a year where thousands of subcontractors were left exposed in company collapses.
Although the project bank accounts would not apply to non-government work, Subcontractors WA praised the move as a good first step.
The accounts, which already apply to Department of Finance projects, would be expanded to other government works agencies, including government trading enterprises.
The WA Government is the biggest construction client in the state and the new measure would cover all government projects worth more than $1.5 million by July 1 next year, including schools, roads and the Metronet rail project in Perth.
Commerce and Industrial Relations Minister Bill Johnston suggested the measures would not protect subcontractors if the head contractor went into administration or collapsed, because that would come under Commonwealth insolvency laws and would fall outside the state's remit.
A new 'cop on the beat'
The Government also announced it will establish a unit within the Small Business Commissioner's office with the power to compel contractors on government projects to prove payment to subcontractors.
Small Business Minister Paul Papalia described the unit a "cop on the beat" to police government contracts for subcontractors, and the first of its kind in Australia.
Small Business Commissioner David Eaton would also have the power to investigate anonymous reports by subcontractors of failure to pay, as well as the ability to conduct random audits.
Mr Papalia said contractors who breached payment obligations would be punished and potentially blacklisted from future government contracts.
"Essentially the Small Business Commissioner will report to government about bad behaviour with a view to them being sanctioned," Mr Papalia said.
A government-commissioned review headed by barrister John Fiocco of security of payments in the building and construction industry is due to be completed before Christmas, with a response in the new year.
Mr Johnston said today's announcement on government projects fulfilled an election commitment and there would be further discussion on protections within the non-government sector.
Mr Papalia said it was much more complex to address the issue in the private sector.
"Clearly, right now we don't have the capacity to deliver exactly the same response. It will have to be a different response," he said.
A bad year for corporate collapse
A spate of firms have collapsed this year leaving subcontractors exposed.
Last month, engineering company RCR Tomlinson went into administration with debts totalling hundreds of millions of dollars, including up to $250 million owed to about 4,000 subcontractors and suppliers.
Despite the new protections announced today, subcontractors could still be exposed when a head contractor collapsed.
"There is no way state law can deal with the insolvency laws in Australia, and so there's no question that the Commonwealth Government should look at its own legislative framework because even with project bank accounts there are still Commonwealth insolvency laws that will still apply," Mr Johnston said.
Subcontractors WA chair Louise Stewart welcomed the project bank accounts, which could be regulated, but said she hoped the Government would enshrine payment protections through legislated statutory trusts.
She said there was more the Government could to protect subcontractors when companies collapsed.
"With project bank accounts we believe there are mechanisms that can be put in place to ensure those funds remain protected in the event of an insolvency," she said.
Mr Papalia said the new powers of the Small Business Commissioner were designed to anticipate situations where subcontractors were not paid and stop them before they occurred.
But Opposition Leader Mike Nahan said the new measures had come too late.
"As a result of their inaction, hundreds of subbies have been left in the lurch under Government contracts," he said.
Topics:
business-economics-and-finance,
wa,