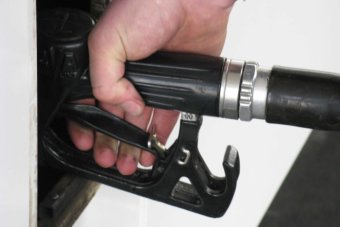 Tasmanians being ripped off at the bowser, RACT says, as fuel prices remain sky high
Updated

November 13, 2018 17:47:53

Tasmania's main motoring body has accused fuel retailers of ripping off motorists and has urged them to slash their prices.
Key points:
On Tuesday the average retail price for fuel was 164.4 cents per litre
The gap between retail and wholesale prices in Tasmania is now 30 cents
The petrol retailers group says Tasmania has a low-volume market, and prices move up and down slower than they do in other states
The Royal Automobile Club of Tasmania (RACT) said motorists were paying too much for petrol and diesel, with service stations ignoring a recent drop in wholesale prices.
The organisation said in some cases, motorists were paying up to 30 cents per litre above the wholesale price.
The RACT's Darren Moody said the wholesale price had dropped from 152.6 cents per litre in October to about 133 cents per litre now.
"In the meantime, the average retail price for fuel in Tasmania on 15 October was 164.1 cents per litre, while today the average is 164.4," he said.
"This is a 30-cents-per-litre gap between the wholesale and retail price of fuel, the biggest we have seen in the past eight years."
Websites and apps showing where and when to buy cheaper fuel: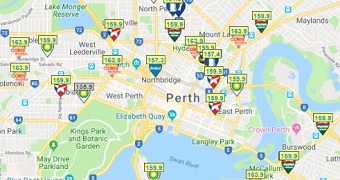 Mr Moody said the majority of prices in major population centres was over 162 cents per litre, but dropped as low as 148.9 cents in regional areas.
"The astounding part to me is I can drive 50 kilometres from Hobart to Dunalley [on the east coast] and buy fuel 10 cents a litre cheaper. Now how can someone 50 kilometres from Hobart sell fuel that much cheaper than the major population centres?" he asked.
He said there was no justification not to reduce the petrol prices.
"The wholesale price has gone down, we think that we've allowed them more than enough time to recover that market squeeze that they encountered and now it's time to act and bring down the cost of motoring for families and businesses," he said.
Tasmanian fuel market 'lags'
Australasian Convenience and Petroleum Marketers Association chief executive Mark McKenzie said he expected prices to decrease eventually.
"Typically what you actually have in Tasmania as a low-volume market is that prices move up slowly and they come down slowly, so there's always a bigger lag in Tasmania than there is in other states," he said.
"Within this context we've basically got the same behaviour that we've typically seen with sharp rises and falls in wholesale prices in past years.
"It is something that we expect only to be a short-term pattern, we expect it to come off as it has in other states."
Topics:
tas,
First posted

November 13, 2018 15:45:39