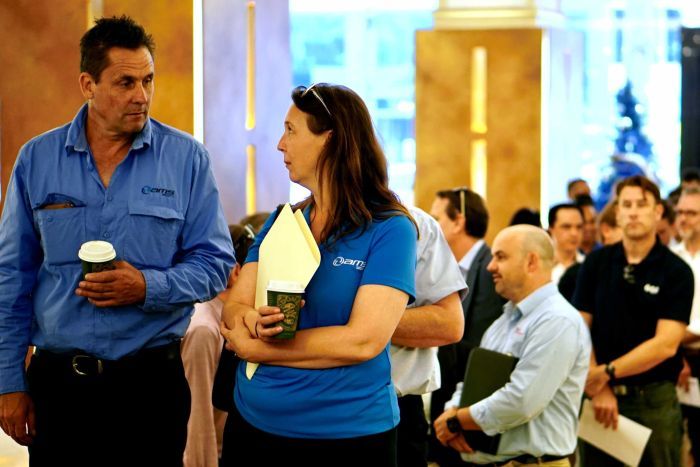 Scale of RCR Tomlinson collapse laid bare as debts of up to $630m revealed
Updated

December 03, 2018 15:33:13

The administrators of failed engineering firm RCR Tomlinson have revealed the company has debts totalling hundreds of millions of dollars, including up to $250 million owed to about 4,000 subcontractors and suppliers.
Key points:
The engineering firm ran into trouble after an aggressive move into solar
A total of $630 million is owed to creditors, subcontractors and suppliers
The collapse came after a $100m injection of funds just three months ago
Administrators McGrathNicol revealed to creditors across the country today that RCR's total unpaid debts amounted to up to $630 million, but it could not say how much was recoverable until it started to sell off parts of the business.
The company, which employed 2,800 people directly and engaged with thousands of subcontracting firms across dozens of projects around the country, went into administration last month after its bank refused to lend it more money to pay its debts.
At its peak in August last year, RCR Tomlinson was valued at almost $1 billion.
Since McGrathNicol was appointed, the company's workforce has reduced to 1400, with most of the job losses coming from the infrastructure arm, which includes its solar contracts.
Employee entitlements excluding redundancy total $32 million. Under the Corporations Act, employees are paid first, followed by secured creditors, unsecured creditors and shareholders.
RCR creditors — who is owed what
Trade creditors (subcontractors and suppliers) — $100-250 million
Secured creditors — $235 million
Unsecured bond issuers — $113 million
2,800 employee entitlements totalling $32 million, excluding redundancy
McGrathNicol partner Jason Preston told creditors initial investigations revealed the company's collapse was largely caused by problems with its solar farm developments, which left the business exposed to a number of risks particularly if there were project delays.
Burned by move into solar
The company, which had been a successful engineering firm for 120 years — predominantly in the mining and resources industry — got into financial trouble after making an aggressive move into the solar industry.
RCR ran at the solar power movement hard and has been involved in building farms across the country, but it was a $57 million write-down on the value of two of its Queensland projects that burned it.
At the first meeting creditors, held across four states, McGrathNicol told suppliers, contractors and employees it was working to sell the business but could not quantify how much it would raise in the sale.
McGrathNicol last week managed to secure funding to support ongoing trading of the company and said it hoped to find a buyer or buyers by the end of the year, having received interest from more than 180 parties.
"Our priority is to prepare the business for sale to bring certainty to employees, customers and suppliers," McGrathNicol partner Jason Preston said.
"The business has been challenged by unprofitable solar contracts within its renewable operations, however the balance of the business operates across industries which are seeing increasing demand for services."
Among the solar projects left in limbo include the expansion of Synergy's Greenough solar farm in Western Australia's Midwest.
The energy utility has terminated its contract with RCR and has started the process of finding a new contractor.
Site activities will remain suspended during the replacement process.
Collapse after a $100m injection of funds
The collapse of the business, which is one of the oldest engineering names in Australia, stunned many in the investing world.
Just three months ago, RCR raised $100 million from shareholders to buffer itself against the losses it had incurred on the solar projects, but it wasn't enough to save the business.
The move led many in investor circles to question what the board had not been telling shareholders and raised questions about whether the nation's corporate regulator, the Australian Securities and Investments Commission (ASIC), would get involved.
The company is also facing a class action which was launched on behalf of shareholders in the New South Wales Supreme Court.
Lawyers Quinn Emanuel Urquhart and Sullivan filed the action, saying investors paid too much for their shares because the market was not informed of the problems the company was having with their solar projects.
Fundamentally, many analysts said the company ran too hard at the solar game without knowing enough about it, and found itself working in an environment of rising equipment costs, increasing wages and a lack of workers skilled in the renewable energy space.
It also underestimated the time it could take to gain grid approval from the nation's electricity regulator, the Australian Energy Market Operator (AEMO), which has toughened its testing regime to ensure reliability of the network.
RCR's collapse prompted AEMO to issue a warning to all new entrants to "discuss early with network businesses … prior to making commercial commitments" so as to "avoid delays during project development, registration and commissioning".
McGrathNicol said it would like to ask for a three-month extension for the second meeting with creditors to give more time to investigate what went wrong with the business.
Topics:
business-economics-and-finance,
First posted

December 03, 2018 15:17:44