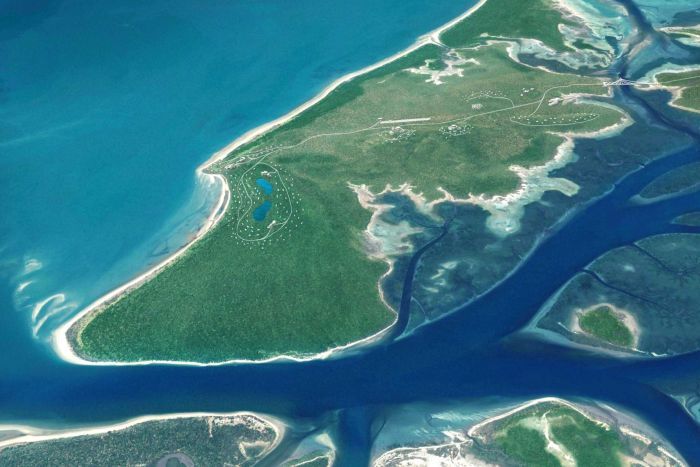 Island 'in the middle of nowhere' gets go-ahead for $1.2b development
Updated

November 06, 2018 00:15:17

A billion-dollar development on a remote and largely untouched Queensland island has been given the green light, against the wishes of the local council, after the Queensland Government took the rare step of intervening in the process.
Key points:
The proposal would see a resort and hundreds of homes built on the undeveloped island
Council opposed the billion dollar development arguing it's too big and not needed
The government intervened and approved the still unfunded project
A largely unknown Australian developer has been pushing for the $1.2b development on Hummock Hill Island since 2005.
Eaton Place wants to build up to 2,500 residential units — including 770 permanent homes — on the central Queensland island.
The project is not fully financed and was rejected by Gladstone Regional Council this year for a number of reasons, including that it was too big and unnecessary.
But on Monday the State Government overturned that decision, meaning the development can go ahead.
State Development and Planning Minister Cameron Dick said it was the first time the state had exercised its so-called "call in" powers through the Coordinator-General in four years.
"This is something that doesn't happen very often," Mr Dick said.
"But when it's an exceptional project and an important project of value to regional Queensland or the state, we will exercise those powers."
Mr Dick said the state had worked with Gladstone Council on its concerns about the project.
But Gladstone's mayor Matt Burnett said the government had ignored their most pressing concerns about what will happen if the project falls over.
Councillor Burnett said he was worried people will purchase homes on the island and then council would be left having to pay for their basic services and infrastructure.
"It is not an eco resort. This is by and large a residential subdivision in a beautiful part of the world but in the middle of nowhere.
"No water, no sewerage, no roads and no bridges. What does this do to our community? It's a bit of a concern.
"We were all in favour of a tourism development for an eco resort but we were concerned about the ratepayers paying for this going forward."
Mr Dick said the government put a provision into the approvals that Eaton Place had to pay for services on the island for 17 years.
He added that the developer will need to turn the first sod by 2020.
But first the company will need to finish its final design and pitch this to investors, in order to get the finance to build it.
Up and down the coast, several island resort proposals have been left unbuilt, with developer Tower Holdings struggling to get finance to build a mega resort on Great Keppel Island for 10 years.
Eaton Place's director Peter Scarf said he was confident the company will get everything done in two years.
"We think its feasible. We wouldn't have agreed and we wouldn't be proceeding if we didn't think we could do it in that time frame," he said.
"We have a number of financiers and people involved. But really for this initial phase we're looking forward to it going straight ahead."
Mr Dick said the project had the potential to transform the central Queensland region.
"We're entering what could be called a golden age for tourism in Queensland," he said.
"We think this will be a real boon."
He said the massive development would also boost the local economy, with 190 jobs during construction and 700 ongoing jobs when the development is up and running.
The Gladstone region has been battling a downturn after its LNG boom ended, with the housing market depressed and many homes sitting half empty.
Local reactions to the development have been mixed.
General store owner Allison Randall said business had been slow this year, and she would welcome the extra workers and tourism the development would bring to the region.
However, Ms Randall said after hearing about the proposal for 15 years she was not holding her breath.
"There's a lot of sceptics out there that think it won't happen in our lifetime, so I guess we'll wait and see," she said.
Topics:
business-economics-and-finance,
qld,
First posted

November 05, 2018 16:57:14