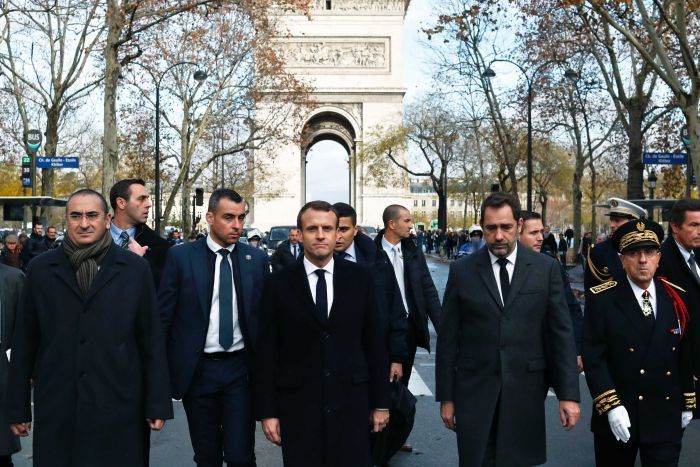 France considers imposing state of emergency to curb violent protests
Updated

December 03, 2018 01:49:03

French President Emmanuel Macron has returned to Paris's riot-ridden streets and damaged Arc de Triomphe after his visit to Buenos Aires for the G20 summit.
Key points:
Police have arrested hundreds of people in widespread protests against petrol prices and Macron's leadership
The "yellow vests" have been demonstrating since November 17 and were fuelled by social media
Vehicles and buildings have been set ablaze from Paris to Marseille
The capital has faced its worst civil unrest in more than an decade, with the French Government weighing up whether to impose a state of emergency to quell the violence.
He visited the partially-torched centre, usually defined by its leafy streets, luxury stores, and grand monuments, however, this time the city's ritzy core was overtaken by the debris of protest.
Firefighters, police officers and restaurant owners had a brief meeting with the President in a nearby avenue where yellow jacket activists had torched cars and smashed windows.
Paris police say 133 people were injured and 412 had been arrested during the urban riot.
The authorities were caught off guard by the escalation in violence after two weeks of nationwide protests against fuel taxes and living costs, known as the "yellow vest" movement after fluorescent jackets kept in all vehicles in France.
Groups of young men with faces masked, some carrying metal bars and axes, rioted on the streets of central Paris, setting a dozen vehicles ablaze and torching buildings.
Protests began on November 17 and quickly grew thanks to social media, with protesters blocking roads across France and impeding access to shopping malls, factories and some fuel depots.
The unrest also spread to France's overseas territories, with rioting spread as far as the island of Réunion, off the coast of Madagascar.
Emergency cabinet meetings begin at Elysee
Upon his return to Paris, Mr Macron held an emergency meeting with the Prime Minister and Interior Minister to discuss the riots and how to begin a dialogue with the protest movement, which has no real structure or leadership.
Government spokesman Benjamin Griveaux urged peaceful protesters to come to the negotiating table.
"We have to think about the measures that can be taken so that these incidents don't happen again," Mr Griveaux told Europe 1 radio.
When asked about imposing a state of emergency, Mr Griveaux said it would be among the options considered in the emergency meeting.
It is out of the question that each weekend becomes a meeting or ritual for violence."
Authorities said violent groups from the far right and far left as well as "thugs" from the suburbs had infiltrated the yellow vests movement in Paris, although Interior Minister Christophe Castaner said most of those arrested were regular protesters who had been egged on by fringe groups.
Speaking on BFM TV, Mr Castaner said the authorities had put all security measures in place to prevent the violence, but that they had faced extremely violent, organised and determined groups.
He did however say the government had made a mistake in how it communicated its plans to move away from oil dependence, the policy which led to fuel tax hikes.
The Parisian clean-up begins
Workers cleared away burnt hulks of cars, scrubbed the defaced Arc de Triomphe monument and replaced the shattered windows of luxury boutiques in Paris after the worst riots in capital's heart in half a century.
Several thousand riot police were overwhelmed on Saturday (local time) as they fought running battles with protesters in the shadows of some of Paris' fabled landmarks and through its fanciest shopping districts.
At the base of the 19th-century Arc de Triomphe, police kept the public back as clean-up crews set about erasing graffiti, much of it targeting President Macron and some exuding anarchist sentiment such as, "Overthrow the bourgeoisie!"
"I've worked on monuments around Paris for 20 years and I've never seen anything like this at the Arc de Triomphe. It was carnage," a Paris City Hall official overseeing the clean-up said as his team worked on a graffito reading "Macron resign".
Lasting damage might be caused if crews are forced to erode the arch's stonework to render it clean, he said.
On the Rue Royale in the heart of Paris, half a dozen labourers gingerly replaced glass panes on the front of a Dior store.
Next door, a Chanel employee vacuumed shards of glass from the floor, while carpenters removed the plywood panels that had been protecting a Gucci shop.
Protestors blame the violence on Macron
Authorities said violent groups from the far right and far left as well as "thugs" from the suburbs had infiltrated the protest movement.
There were signs that some of the hardcore troublemakers were part of the anarchist and anti-capitalist movement: banks, insurance companies, upmarket private homes and cafes and glitzy boutiques were among the properties smashed up and looted.
Parisians and tourists surveyed the aftermath, capturing the moment on smartphones as the capital digested the chaos that now poses a serious challenge to Mr Macron's presidency.
"[Mr] Macron has a problem on his hands. Everyone's fed up. He's got to listen more," said Amaya Fuster, eyeing graffiti daubed on a Printemps department store window that read: "There's enough money in the coffers of businessmen. Share the riches!"
Paul Marra, a yellow vest activist in Marseille, told BFM TV that the Government was to blame for the violence across the country.
"We condemn what happened, but it was inevitable," he said.
"The violence started from the top. The biggest thug is the state through its inaction."
Reuters/AP
Topics:
First posted

December 02, 2018 20:44:19