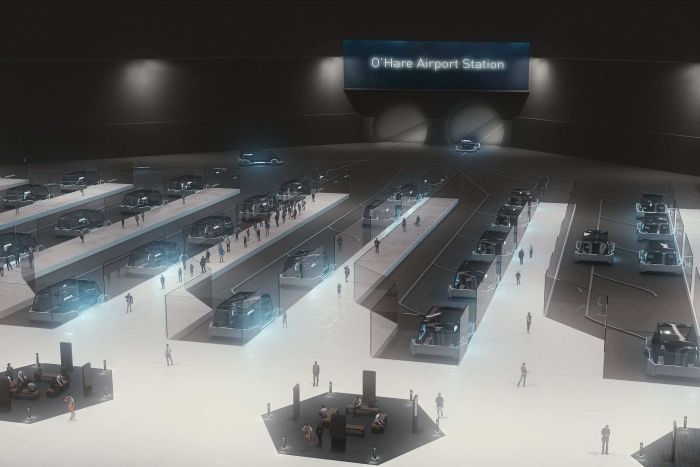 Elon Musk drops plans for west LA tunnel, instead focuses on Dodger fans
Updated

November 30, 2018 13:05:35

Billionaire entrepreneur Elon Musk has scrapped plans for a high-speed passenger tunnel under the West side of Los Angeles but is moving ahead with a similar proposal across town designed to whisk baseball fans to and from Dodger Stadium in Chicago.
Mr Musk's underground transit venture, the Boring Company, gave up on its development of a 4.4-kilometre tunnel in West LA to settle litigation brought by community groups opposed to the project, the two sides said in a joint statement.
The move came six months after Mr Musk, the high-tech baron better known as founder of electric car company Tesla and CEO of rocket maker SpaceX, made a rare personal appearance at a Los Angeles public event to promote his controversial tunnel project.
At the time, Mr Musk boasted of his intention to offer free rides through the tunnel under Sepulveda Boulevard to elicit public feedback before proceeding with a much larger network he has envisioned for the LA metropolitan area.
But opponents accused Mr Musk of trying to evade a lengthy environmental review required for such projects by seeking an exemption based on what his company insisted was a small-scale demonstration of a wider concept.
Precise terms of the court settlement were confidential, according to a company official along with a lawyer for plaintiffs of the lawsuit, John Given.
"The parties … have amicably settled the matter," the statement said.
"The Boring Company is no longer seeking the development of the Sepulveda test tunnel and instead seeks to construct an operational tunnel at Dodger Stadium."
Plans for Boring's so-called "Dugout Loop," an underground high-speed transit corridor between Dodger Stadium and one of three existing subway stations along the city's Metro Red Line, were first unveiled months ago on the company's website.
An initial public scoping hearing for the project, the first major step in a full-scale regulatory review of the Dugout Loop, was held by the city's Public Works Department in late August.
Meanwhile, the company has said a separate, shorter tunnel it has dug beneath the tiny neighbouring municipality of Hawthorne, where Boring and SpaceX are both headquartered, would be completed by December 10.
"Based on what we've learned from the Hawthorne test tunnel, we're moving forward with a much larger tunnel network under LA," Mr Musk tweeted, adding, "Won't need a second test tunnel under Sepulveda."
Boring said the Hawthorne tunnel and its Dugout Loop would serve as proof-of-concept sites for a traffic-easing system of subterranean tubes that would move pedestrian vehicles called "skates" from place to place at up to 240 kilometres per hour.
The Dodger Stadium tunnel will initially be limited to some 1,400 passengers per event, about 2.5 per cent of the ballpark's capacity, but ridership could eventually be doubled, Boring's website said.
It said fares would run just $1 a ride.
In June, Boring was selected by the city of Chicago to build a 27km underground transit system connecting that city's downtown to O'Hare International Airport.
The company also has proposed an east coast loop that would run from downtown Washington DC, out to the Maryland suburbs.
Mr Musk, known for aggressively taking on large-scale technical challenges with which he has had little previous experience, launched his foray into public transit after complaining about LA traffic on Twitter in late 2016, vowing then to "build a boring machine and just start digging".
Reuters
Topics:
business-economics-and-finance,
construction-projects-and-equipment,
First posted

November 30, 2018 12:40:42