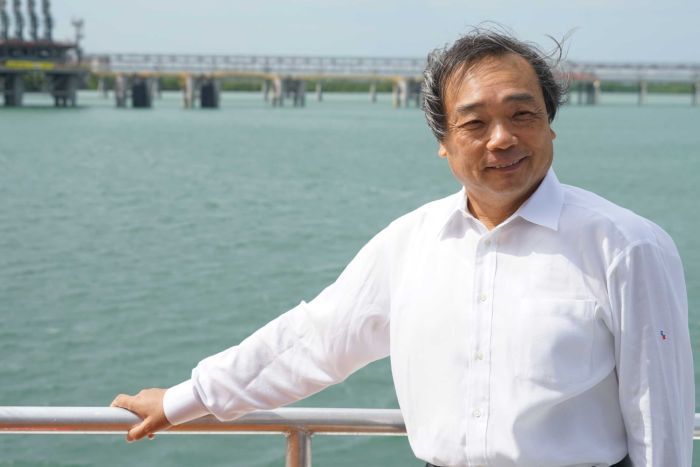 Inpex boss touts potential expansion of Darwin gas project ahead of opening
Updated

November 15, 2018 19:31:51

Darwin may reap far more than the expected 40 years of business from the biggest project ever undertaken on its soil, with a future expansion of the $55-billion Inpex LNG gas processing facility mooted by the Japanese company's chief executive.
Key points
Inpex chief executive hints "we may develop these fields in the future" on tour of $55 billion gas plant
Japanese and Australian prime ministers arrive tomorrow for official opening
Economic downturn and workplace deaths cloud Inpex project legacy
His comments fall on the eve of a visit to Darwin tomorrow by Prime Minister Scott Morrison and Japan's Shinzo Abe — the first Japanese leader to arrive in the Top End since the bombing of Darwin in 1942.
The leaders' visit will coincide with the official opening of the project, which has taken almost two decades to plan and more than six years to build.
"This is really, really one of the biggest energy facilities in the world," Inpex chief executive Takayuki Ueda said during a boat visit to the site.
Around 70 per cent of the gas processed in Darwin will be exported to Japan, with other nations taking the remainder.
"This is contributing to the energy security in Japan," Mr Ueda said.
He flagged the possibility of the plant expanding in years to come, if more gas reserves are located near the existing Ichthys field in the Browse Basin off the Western Australian coast.
"We think we will continue to produce this energy at least for 40 years from now on," Mr Ueda said.
"We have around 20 exploration areas around Ichthys field, so we may develop these fields in the future … I think there seems to be room for the expansion of our project.
"For example we have now two LNG trains (gas processing facilities) here, there is still room for the construction of additional four LNG trains here in this LNG plant.
"So if we maybe expand our business, if there are some who want to use our LNG plant, we are very happy to provide our facilities for those companies to use our facilities."
The lifting of the NT Government's fracking moratorium earlier this year could also give the Japanese gas giant room to grow within the region.
Workplace deaths acknowledged
Another factor that proved controversial during the Inpex project's construction was the number of fatal incidents surrounding it, including the tragic workplace death of Carl Delaney, 56, at the Bladin Point site in November last year.
More than a dozen employee suicides also took place during the project's duration, according to CFMEU organiser Kane Lowth.
"This is certainly not a job that we would say is the benchmark for the construction industry, in fact I'd go so far as to say in the 17 years that I've been a union organiser it has been the worst major project I've seen in my time," Mr Lowth said.
"I mean we've had over a dozen suicides now, directly related to this job, whether [subcontractor] JKC want to admit it or not.
"And obviously we haven't got the figures on family breakdowns, drug and alcohol abuse — so those figures are not known, but obviously they're there."
Inpex chief executive Mr Ueda acknowledged the tragedies that had taken place during the construction period, and said the company was now working to improve their health and safety systems.
"I think it is true that incidents, some tragedies, have happened during the construction process — we are very [regretful] and sorry for that," Mr Ueda said.
"Although we had some regrettable incidents happen, we will try to improve our HAS regulations, and we think that such incidents will never happen from now on."
The beginning of Inpex's gas production, expected to majorly assist with Japan's future energy security, will be officially marked at Bladin Point tomorrow.
Territory's economic decline
The company's construction triumph today was also shadowed by the dwindling Darwin economy the project has left in its wake.
Treasurer Nicole Manison said while the Inpex project had proved the Territory could "deliver an absolutely fantastic world-class project of this magnitude", local businesses were now "hurting as we go through this transition".
"We are going through that transition from the biggest economic high we've ever seen in the NT, to what is basically our new normal," Ms Manison said.
"We have seen a decline.
"We are working very hard to make sure that we continue to sustain and grow our population, but a really important part of the future going forward is making sure that you have a diversified economy."
The size and scale of the Inpex construction project created an illusionary sense that the Northern Territory economy was humming, according to Professor Rolf Gerritson of the Northern Institute.
"A project of that size always creates stresses on what is essentially a very small economy," Professor Gerritson said.
"It's certainly over the last six to eight years powered the Territory economy, so it's created an illusion of economic growth — so in that sense it's had a big impact on the Territory."
Topics:
business-economics-and-finance,
First posted

November 15, 2018 18:48:18