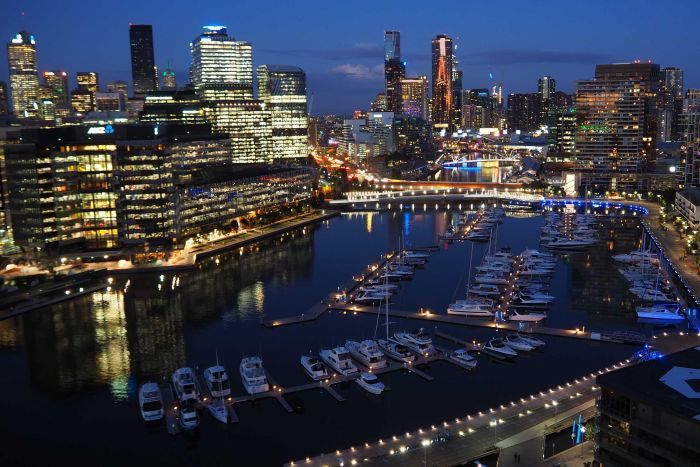 Where property is still booming: Sydney and Melbourne CBD office towers can't keep up with demand
Updated

November 09, 2018 11:25:32

Australia is a big country and one of mixed economies. All you need to do is take a look at office vacancy rates to see which states are performing better than others.
In Melbourne and Sydney it is increasingly difficult to find a new office, while building owners in Brisbane and Perth would love some more tenants.
Engineering firm Arup has just moved into the only premium office building to come onto the Sydney market this year.
The company knows a thing or two about the city's built environment.
Its founder, Sir Ove Arup, oversaw the engineering design on the construction of the Sydney Opera House.
As the iconic building celebrated its 45th birthday this year, Sir Ove's company faced a new design challenge: where to house its increasingly agile and growing workforce of nearly 800 staff in a city with very little office space.
Arup started looking for a new home back in 2012.
"At the time we had options around Barangaroo and there was quite a lot of redevelopment happening at Martin Place," Arup's NSW region leader Andrew Pettifer said.
In the end, Arup signed a lease for another building it was undertaking the engineering work for.
"One of the things we liked about this proposition was that it was a building that we could design," Mr Pettifer said.
Barrack Place is the only premium office building that has come onto the Sydney market this year.
Arup brokered its lease back in 2013 and moved in to the newly completed building last month.
"I think we did get in at the right time," Mr Pettifer observed.
Since that deal was done, Sydney's economy has been booming, which has led to a significant tightening of the office space market.
"It's really become much more constrained," Mr Pettifer said.
"There are less new buildings coming on to the market, and also we've seen stock coming off the market, in particular for the construction of the metro."
That means companies looking for a new home now have severely limited options.
"In 2017 around the national CBD markets we actually saw negative net supply, and in 2018 there wasn't much of an improvement," Bradley Speers, head of research at real estate firm CBRE, said.
"Sydney is not going to see that much supply and we don't expect the market to grow until 2021."
As at July this year, the last time figures were released, Sydney's office vacancy rate was 4.6 per cent.
CBRE predicts that will soon fall to the low threes.
Rents have been pushed sky high
"In the Sydney CBD real and nominal rents are now at record highs," Mr Speers said.
"We've never seen it this high ever before. Since 2014 Sydney CBD effective rents have grown 80 per cent and in secondary stock [it] is over 100 per cent."
It is a similarly bleak picture in Melbourne where the office vacancy rate is the lowest in the country at 3.6 per cent.
"There's been very strong population growth in Victoria over the past few years," Mr Speers noted.
"That's driving the economy and likewise driving demand for office space."
The amount of office space in Melbourne's CBD is expected to increase by about 10 per cent by 2020.
But a recent report by Urbis reveals if supply is not dramatically increased in the next 20 years, it could cost the Victorian economy $7 billion in lost jobs because there will not be enough space to house workers.
A tight office market is not great for a company looking for more space, but, as the Property Council of Australia says, it is a solid indication of a strong economy.
"The Melbourne and Sydney markets have been underpinned by strong demand," Property Council CEO Ken Morrison noted.
"So that's new businesses coming into those centres and businesses who are in those centres and are growing."
Mining states still lag behind
But it is a different picture in Western Australia and Queensland, where economic conditions are not as positive.
"We've got the mining sector overhang and that has impacted those office markets quite considerably," Mr Morrison said.
"There are high office vacancies in those markets."
Perth's CBD vacancy rate is 19.4 per cent. That is more than double the national CBD vacancy rate of 9.2 per cent.
It has fallen slightly from its vacancy rate high and CBRE expects it will continue to tighten as the economy recovers from the end of the mining boom.
Brisbane's end of mining boom recovery is slightly ahead, but its vacancy rate of 14.6 per cent is still considerably higher than the national average.
Adelaide has a very similar high vacancy rate as an increase in government Defence contracts slowly moves to help boost South Australia's economy.
But no matter the city or its market conditions, there is one common trend emerging.
"We're seeing business building owners invest in place, invest in the things that make their places, their buildings and properties great places to be at," Mr Williams said.
That means expect the next phase of office buildings, when they do come online, to be fitted out with extras like art installations, superior end of trip amenities and yoga studios.
Topics:
business-economics-and-finance,
First posted

November 09, 2018 10:01:33