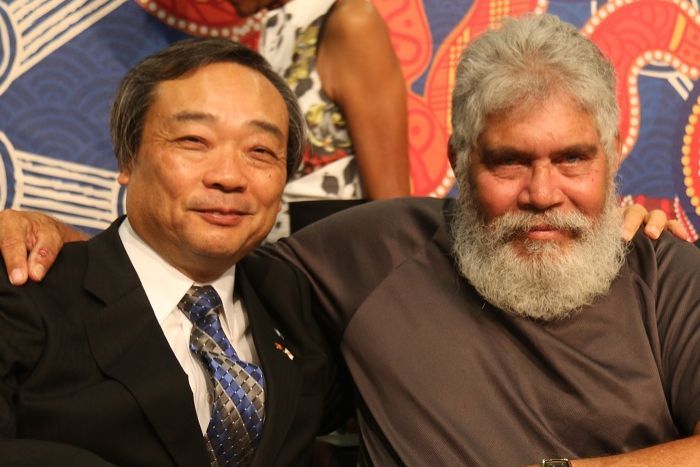 Inpex signs deal to pay Darwin Aboriginal group $24 million over decades
Updated

November 16, 2018 11:21:26

Japanese gas giant Inpex has signed a $24 million deal to set up a fund for Darwin's Larrakia people almost a decade after it was first promised.
Key Points:
The fund will cover the 40-year lifespan of the Ichthys LNG project
The package has been set up as a trust to ensure funds are distributed for the sole benefit of the Larrakia people
The project has already supported more than 60 Indigenous businesses and employed more than 1,400 Indigenous people, said Northern Australia Minister Matt Canavan
The fund will exist for the projected 40-year lifespan of the Ichthys LNG project at Bladin Point near Darwin, which has started production offshore in the Browse Basin.
Larrakia Development Corporation (LDC) chief executive Nigel Browne has been pushing for the fund, which was part of a memorandum of understanding Inpex signed with LDC in 2009.
"Absent any native title or land rights on the Darwin side of the harbour, [it is] recognition of our status as traditional owners," Mr Browne said.
"A package to assist Larrakia families, not only in everyday life but also [in] opportunities for training and employment and commercial engagement."
At a ceremony in Darwin, Inpex chief executive and president Takayuki Ueda said his company wanted to recognise the Larrakia as traditional owners of the region's land and waters.
"I'm happy that everyone seems to have overcome the difficulties that we had in the past," he said.
"Here in Darwin, no relationship is more important to us than the relationship with the Larrakia.
"I'm very happy, I'm very happy, like a happy little vegemite."
Tens of millions to pay for education, jobs
Mr Browne said the fund would be used by LDC and Larrakia Nation Aboriginal Corporation to expand existing projects and launch new ones, including helping elders with the cost of living, a funeral fund, and assistance to cover the cost of school uniforms and excursions.
The package has been set up with a trust structure to ensure the funds are distributed for the sole benefit of the Larrakia people, the traditional owners of the land on which the LNG plant has been developed.
Northern Australia Minister Matt Canavan said the Larrakia could now look forward to benefiting from tens of millions of dollars in funding for their communities over the life of the Ichthys project.
He said the project had already provided "significant benefits", supporting more than 60 Indigenous businesses and employing more than 1,400 Indigenous people.
"This agreement will lock in more educational and employment opportunities for many years to come," he said.
He said the Larrakia trust was "a bit different" and should be a template for the resources sector.
"This agreement has not been struck because of native title, it's been struck because Inpex feel they've got a commitment to the local community and the local Indigenous community in particular," he said.
"Hopefully future resource projects here in the Territory will pick this up."
The first milestone will occur this week when $3 million is paid into the trust to celebrate the start of the initiative.
A further $1 million will then be allocated to mark the Ichthys onshore LNG processing facility achieving 8.4 million tonnes per annum in LNG production.
Another $500,000 will go to the trust on the anniversary of the first LNG cargo's departure from Darwin Harbour every year for 40 years — or until the end of the economical production — whichever comes first.
Seeking commitment to long-term work
Mr Browne said although there was no "solid commitment" to long-term employment opportunities, that was still LDC's focus.
"Where we've needed to agitate the situation, we've done so," he said.
"I've already let it be known to Inpex that with 40 years of operations, we expect to populate a good deal of the workforce for Inpex and we expect to occupy positions at every level of the operation of the gas plant at Bladin Point.
"Now we're chasing the slow burn: long term, stable cash flow that contracts can provide."
In 2015, Mr Browne said the Larrakia benefits fund remained a "gaping hole" in the MOU and that the deal had "run out of puff".
"It hasn't been a smooth path or plain sailing," he said.
Bill Risk, Larrakia elder and Inpex advisory committee chairman, said the agreement was very significant, and a major milestone for his people since the Bombing of Darwin in 1942.
"[The bombing] disrupted our lives to an extent where the fight for our land and native title, et cetera, was affected by the fact that it was the Australian government that removed our people from the land at that time of bombing," he said.
"Even though some of our land — such as across the harbour here — was recognised through the federal act of the land rights act of the NT, and was very, very secure."
He said Indigenous land, law, culture, and language remained strong.
"It doesn't matter where you are, Indigenous people across Australia — and I think I can talk in that light — even though you lose a lot, people don't really know just how much each of those language groups still hold and retain and teach their children and travel their country."
The negotiations had not been an "easy road", Mr Risk said.
"We certainly supported Inpex coming here, what we were looking for was jobs, employment, and some form of working together with Inpex," he said.
"Every road which culminates into an agreement like this is hard-fought on both sides, but through negotiation everybody's happy."
Hitoshi Okawa, Inpex Australia's corporate coordination director, said this type of agreement was unique for Japan.
"In Japan we never had that sort of agreement in the past, so this is a great achievement," he said.
"We don't have native title and we don't have traditional owners, so that is why it is very difficult for me to convince our top management in Japan."
The agreement was signed on the eve of a visit to Darwin by Japan's Prime Minister Shinzo Abe.
While you're here… are you feeling curious?
Topics:
business-economics-and-finance,
indigenous-aboriginal-and-torres-strait-islander,
First posted

November 16, 2018 09:56:31