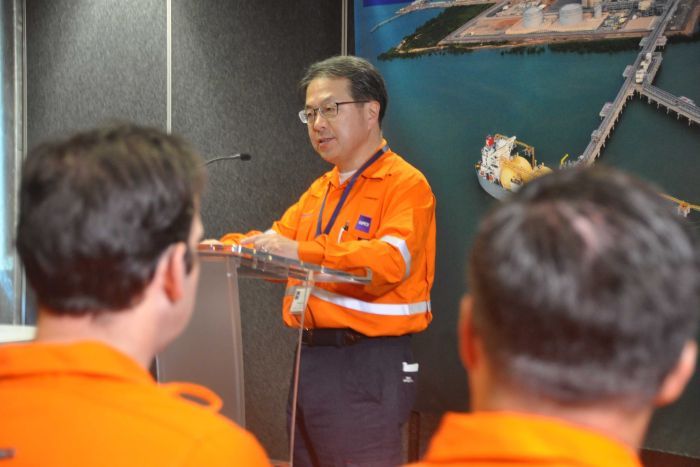 Foreign investment could fuel 'massive oil and gas base' in Northern Territory, says senator
Updated

November 16, 2018 18:06:49

A surge of major foreign investments into Northern Territory resources could see the region transformed into a "massive oil and gas base" within 10 years, according to Northern Australia Minister Matt Canavan.
Key points:
Inpex's Ichthys LNG gas project officially opened today
Japan's Trade Minister says the NT could help fuel a "second LNG revolution" in Asia
Future gas projects were touted as key to pulling the NT economy out of the doldrums
If achievable, such an increase could haul the NT out of the economic doldrums, Mr Canavan said, as the economy struggles in the wake of the biggest construction project ever undertaken in Darwin.
Inpex's $55 billion Ichthys LNG plant was officially opened in Darwin this morning, marking a turning point from project construction to gas production in what has been touted as the largest ever foreign investment by Japan on Australian shores.
In front of Japanese ministerial counterparts and business leaders, Mr Canavan leveraged off the historic moment to call for further Japanese investment into Northern Australia.
"While we're here celebrating the past and what has been achieved, I do want to signal that we want more investment from Japan here in Australia," he said, to laughs from Japanese Government and business officials.
"Inpex hasn't spent enough in Australia just yet — there's more opportunities."
Japanese Trade Minister Hiroshige Seko said the NT could be at the forefront of fuelling a new "LNG revolution" within Asia.
"Japan and Australia are of course important partners to each other, being mutually the largest LNG trading partner," Mr Seko said, through a translator.
"The success of the Ichthys LNG project … will mark a big step forward taking LNG co-operation to the next step.
"From this plant, LNG will be supplied to Asia including of course Japan — a new supply coming from Ichthys LNG and rapid rise of the demand in Asia, I project this big wave of supply and demand to be a second gas revolution."
Push for projects to flip downturn
At the peak of its six-and-a-half year construction phase, 10,000 workers were employed on the Inpex site in Darwin.
Now, around 2,500 remain, tying off the final stages of the plant's construction.
Eventually, just 350 staff will be employed onsite at the LNG plant during the day, with another 60 working through the night.
"We can all see right now in Darwin, it is tough," Mr Canavan said.
"It's been a great few years with the Inpex project, but like all large projects, when they come to the end of their life it can be a difficult period afterwards.
"What we need to do now is work hard to attract new projects."
He spruiked the potential of NT gas supplies to fuel foreign markets into the future, particularly from the Beetaloo Sub-Basin, 500km south of Darwin.
"I would hope that in the next decade, if we get things right, and if all the geology turns out to be as exciting as is expected, we can have a massive oil and gas base here in the Northern Territory, that can not only support export revenues and wealth and jobs here, but also help build a manufacturing industry here in Darwin as well," he said.
His comments came the day following the signing of a memorandum of understanding between the Australian and NT Governments, pledging to properly develop the vast fracking potential of the gas-rich Beetaloo.
Fracking industry touted for future
The Gunner Government's move to lift the Territory's fracking moratorium earlier this year was also lauded by both Japanese and Australian officials as a positive move.
It was spoken of as a catalyst to vastly increase the level of gas exports from the region.
Inpex chief executive Takayuki Ueda today reaffirmed the company's hope to explore "business onshore of Northern Territory".
"We have some exploration in the Beetaloo Basin," he said.
"But because of the moratorium we are not doing any business at this moment in the Beetaloo … but if we understand that drilling in that area is also economically viable, maybe we will seriously consider another investment here in the Northern Territory."
Mr Ueda also said Inpex "respect the environmental issues here in the Northern Territory" and would wait for the NT Government's full regulatory framework into the fracking industry to be developed and completed before any plans were advanced.
Topics:
business-economics-and-finance,
First posted

November 16, 2018 17:36:42