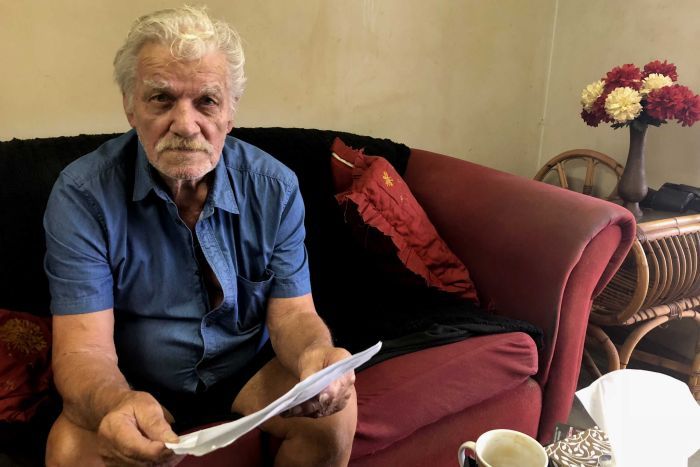 'A kick in the guts': Elderly residents told to leave their unsafe homes
Posted

November 20, 2018 08:52:18

A group of elderly residents who are facing eviction from their remote Western Australian homes have hit back at the council behind the move.
The Port Hedland residents, some who had lived in their properties for more than a decade, said the accommodation on offer — which was 20 kilometres away — was too isolating.
Hendrick 'Jacko' Scheltens said he did not sleep for two nights when he and 16 other residents were given the news that they had to leave.
He has lived in his Pilbara unit for 15 years.
"I thought I was going to finish my life here but apparently not," he said.
"I used to take the oldies on the bus to Broome when they had Olympics for the old people, I've been there a few times, I did it for nothing," Mr Scheltens said.
"I did the right thing to people in town, but now you get a kick in the guts."
Housing not safe: Mayor
Port Hedland Mayor Camilo Blanco said the decision was made after structural and building reports identified safety issues with the building, including that it would be at risk during a major weather event.
"We're putting actions in place to ensure that any tenants that might be there would be safe … which means they will have to be moved out," he said.
"We've made the decision that the residents should move out as soon as they can because we are actually in the cyclone season currently."
Other issues outlined in the independent reports included health and safety issues such as asbestos, electrical issues and termite damage.
New homes too isolating, say residents
Residents living in the units have been offered accommodation at Osprey Village, 20 kilometres away in South Hedland.
The village is a 3-kilometre walk from the nearest shopping centre, and some residents are concerned they will be cut off from accessing services such as shops, services and the wider community.
Another resident, Joe Wittpahl, has been contemplating the move to Osprey Village.
But close friend Chrissie McDowell said she was concerned that a relocation would be disruptive.
"He has lived in Port Hedland for over 40 years and he's never lived anywhere but along this street so his community is here," she said.
"Our concern for him is what's he going to do all day? He's got a really good routine now, he's happy he loves doing that and it's a big change for someone who's turning 80."
Mr Scheltens said he won't be taking up the offer.
"One side is the rubbish tip and on the other side is the bloody desert — there's nothing there," he said.
He said he would be looking for somewhere to stay in Port Hedland.
"I can stay with friends I suppose but I'm independent you know, I don't want to hassle people with my problems."
Uncertainty about future aged care
The site will be demolished after the residents have left the units.
Cr Blanco said the council was seeking a partner to rebuild aged-care facilities within Port Hedland but it is not known where or when that would happen.
"That is a long process and these government processes take a long time … we'll be looking between three and five years before this happens," he said.
The State Government recently confirmed a population cap in the town due to dust caused by nearby industry.
In a statement, a State Government spokesperson said the WA Planning Commission would consult with the Town of Port Hedland to establish boundaries on where sensitive land uses such as aged care could be located.
Topics:
occupational-health-and-safety,