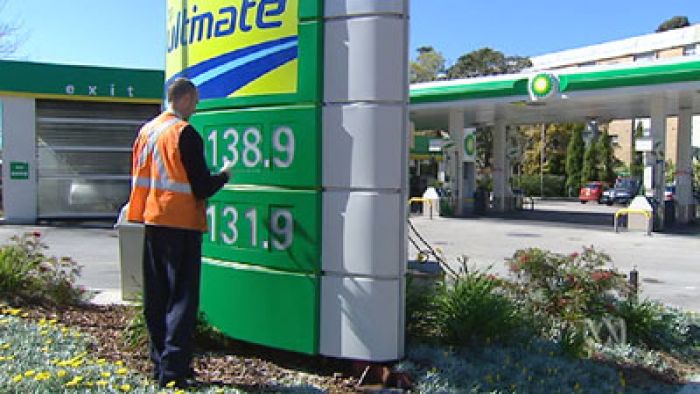 Oil price crash brings great news for motorists amid 'unprecedented uncertainty'
Updated

November 21, 2018 13:13:48

The unravelling of the global oil market is flowing through to the petrol pumps with the price slump since the start of the month the sharpest in a decade.
Key points:
Global oil prices are down about 30pc from a recent peak last month
Benefits are flowing through to Australian motorists, but the effects are patchy across different markets
IEA warns of "unpreceded uncertainty" in global markets
Last night's savage near-7 per cent sell-off and the continuing crisis of confidence among traders about the prospects for demand in a slowing global economy is expected to accelerate the decline.
Pump prices for standard unleaded petrol fell more than 6 cents a litre last week to $1.43 a litre. Prices are down more than 17 cents a litre over the past three weeks.
However across the major cities, the results are patchy, with Sydney and Melbourne enjoying the sharpest falls, while Canberra and Hobart have barely moved.
Petrol prices still falling
While falling global prices are the main driver, a firmer Australian dollar in recent weeks has also helped drive down the cost of importing oil.
Commsec's Craig James said with the pump price not fully reflecting the fall in global prices, motorists could expect even cheaper fuel in coming weeks.
"The average motorist is now paying $12 less to fill a 70 litre tank compared with just three weeks ago," Mr James said.
Mr James said prices should drop another 5 to 7 cents a litre over the next fortnight.
"The gross retail margin for fuel retailers remains close to 16 cents a litre, above the annual average of 13.5 cents a litre," he said.
"Prices have scope to fall markedly for motorists in regional areas and those in smaller capital cities such as Hobart and Canberra.
City

Pump price 30/10/18

Unleaded (cents/litre)

Pump price 20/11/2018

Unleaded (cents/litre)

Adelaide
165.9
159.9
Brisbane
155.0
127.2
Canberra
165.4
163.7
Darwin
162.6
154.5
Hobart
164.5
162.8
Melbourne
160.6
133.0
Perth
162.4
148.4
Sydney
151.5
127.4
Source: Motormouth
Tanking global economy hits demand forecasts
While worries about oversupply are part of the equation, the darker cloud looming is falling demand from an expected global slowdown.
Already two of the world's biggest economies and oil consumers, Germany and Japan, have reported falling GDP in the third quarter.
China's economy is also showing signs of slowing due to a combination of declining domestic demand and exports likely to come under pressure as US trade sanctions bite.
Key oil producers were also blind-sided by softer-than-expected US sanctions against Iranian production.
The big oil producers ramped-up production in expectation of serious shortfall only to find the US allowed Iran to maintain exports to eight of its biggest customers including China, Japan, South Korea and India.
Unprecedented uncertainty: IEA
The head of the International Energy Agency, Fatih Birol, warned producers about the dangers of the current geopolitical instability and a fragile global economy.
"We are entering an unprecedented period of uncertainty in oil markets," Dr Birol said at an energy conference in Norway overnight.
"The US decision on the Iranian sanction waivers took some of the players in the market by surprise," he said.
"As a result, what we see today is that markets are well supplied and the [oil] price went down by $20.
"But the global economy is still going through a very difficult time and is very fragile and … we have very thin production capacity left in the world, in a world which is becoming more dangerous."
Saudi-led oil cartel the Organisation of the Petroleum Exporting Countries (OPEC) is expected to endorse a cut in production at a meeting in Vienna on December 6.
Speculation centres on OPEC and its allies pulling production by up to 1.4 million barrels a day.
However, the IEA argues such a cut could cause a price spike that would further depress consumption and the global economy.
Dr Birol said OPEC producers should exercise "common sense" at next month's meeting.
"Despite the weak shape of the global economy, oil demand is still strong, spare production capacity is very thin and we do not know what the decision of the key producers in OPEC in December will be," he said.
Topics:
business-economics-and-finance,
First posted

November 21, 2018 13:12:29