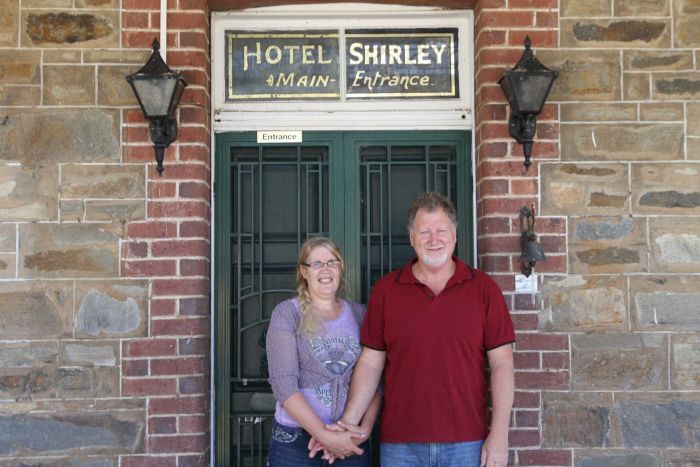 How to buy a country pub for just $100
Updated

November 21, 2018 07:00:28

The fate of one old pub in the New South Wales Riverina will come down to $100 and an ingenious proposal.
In Bethungra the owners of the former pub, affectionately known as The Shirley, have come up with a novel way to make sure they sell the historic building to someone who will maintain its heritage features.
Rather than sell The Shirley Robyn and Allan Cox have asked people to pay $100 to put forward an idea for the Victorian building.
After a three-month tender process the building will be handed over to the applicant who has the best plan for the pub.
Ms Cox said she has seen the concept used successfully in Western Australia and that it is a way of selling large businesses that would otherwise take a long time to sell.
"When you put something like this on the market you can't get somebody interested because they can't get a bank loan," she said.
"If you can't make enough money to make ends meet then you are not going to be investing back into the building, she [The Shirley] needs love and she needs care."
Ms Cox said she wants the building to remain a part of the Bethungra community.
"What would be absolutely wonderful would be if the next people that get her own her outright, don't have the bank loan, don't have the overhead and can focus on taking her to the next level," she said.
"The community has 101 different ideas of what you could do with this building and the Facebook page has shown a lot of people have got the same."
Some of the ideas posted in hundreds of comments on social media include using the building for an aged care facility, a restaurant, a nursery or as a shelter for domestic violence survivors.
Ms Cox said a shortlist of the best applications will be assessed by a neutral party to see what is the best idea for the building and the community.
"If we can't reach the 20,000 applications then that's not going to cover our costs," she said.
"If it doesn't happen people will get their application money back."
New life for old buildings
Riverina heritage consultant and architect Noel Thomson said old buildings like The Shirley are especially important to small towns and villages by providing a glimpse into times gone by.
"They are the backbone of our history and it presents us with an opportunity to look back at the heritage value that that building has, and the socioeconomic circumstances at the time," Ms Thomson said.
"More than just the aesthetic significance of a building, a pub, a bank or a post office, you are looking at the people who ran that and the stories behind that."
Mr Thomson said that finding a new use for an old building is often important in ensuring its survival.
"Banks that become houses or bed and breakfasts, post offices that get turned into museums, churches become residences," he said.
"You have to look at other uses and you need people that can take these projects on board because there's a lot of upkeep and issues that go with an older building that might have a heritage overlay.
"If it's listed in a local environmental plan, most changes that you would want to do would need approval by the council before you can undertake changes.
"So you do need someone who has a gift, or an interest to take on, to be able to renovate and face those challenges."
Mr Thomson said the Up-To-Date Store in Coolamon, and the former courthouses at Whitton and Urana, which are now a museums, are all good examples of how old buildings in NSW have found new life.
When a building is lost
An hour's drive from The Shirley is the small town of Matong, which also hosted a grand old pub valued by the town's community.
The Farmers Home Hotel stood in Matong for more than 100 years but was demolished earlier this month after a fire sealed the derelict building's fate.
The hotel had been vacant since an earlier fire in 2008 and the Coolamon Shire Council had been in mediation with the owners to have it repaired or demolished.
In the end a second fire forced the Council to take action after it deemed the building to be a safety risk to the public.
Matong resident Maryanne said it was a sad end for the much-loved building.
"Our history was in that pub, our community," she said.
"That's where we'd all get together and find out what was happening, a chance for the citizens to get together and have a good old yarn.
"It's devastating, it had the potential and now it's just a wreck."
Topics:
First posted

November 21, 2018 06:15:05