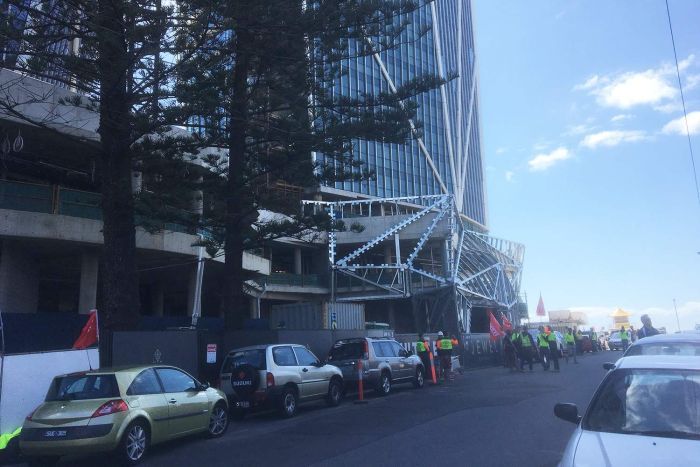 Up to 900 jobs at risk at Jewel construction site, union warns
Updated

October 04, 2018 14:43:34

Up to 900 construction jobs on a Gold Coast high-rise development site could be at risk amid "unprecedented" problems, the construction union says.
Hundreds of workers on the $1 billion Jewel resort development site in Surfers Paradise are striking for a second day.
The CFMEU said 150 workers effectively lost their jobs on the Surfers Paradise project last week after builder Multiplex sent a message to some contractors drastically reducing their work.
The union's assistant state secretary Jade Ingham said workers and the unions haven't been told the full story about what is going on.
"I have never seen this before, this is unprecedented," he said.
"Because of the veil of secrecy around this one, we have not dealt with this before."
Mr Ingham said he feared for all 900 construction jobs on the high rise development, and the impact on the Gold Coast economy if that work was lost.
"We've got grave concerns for the jobs, for the workers and their welfare, for the livelihoods of the families they support," he said.
"You don't just knock out 1,000 jobs and there be no impact on the economy — if this was any other industry, you would see all government agencies jumping up and down trying to protect the workers.
"We are really concerned about the impact this is going to have on the mental health of all those workers."
Mr Ingham said the CFMEU had been requesting a direct meeting with the developer, but that had not happened.
The developer Yuhu Group Australia has released several media statements saying it would finish the whole project on time, and without a reduction in total man-hours, but has suspended some work while it searched for a hotel operator.
However, some subcontractors were instructed to halt internal work on the development's residential apartments.
Developer 'taking a pause', Mayor says
Gold Coast Mayor Tom Tate said the developer should be able to change some of its building plans.
"It is the right for Yuhu Group to redesign and make sure that their product is world class and that is what they are doing — taking a pause," he said.
Councillor Tate said he did not think jobs would be lost on the project.
"My attitude is this: a contract is a contract, the jobs will still be there when the design is complete."
Cr Tate urged workers to take the opportunity to find jobs on other sites until construction at the Jewel site recommenced.
Late yesterday, Yuhu Group Australia said in a statement it would select a hotel operator in coming weeks, and it needed to take guidance from that operator when finalising design and configuration elements.
The statement said Yuhu Group had made all payments due and payable to the head contractor, Multiplex, and it welcomed an ongoing investigation by the Queensland Building and Construction Commission.
Queensland Housing Minister Mick de Brenni said he had been told subcontractors at the Jewel development would be paid all the money they were owed.
Mr de Brenni said he had told Multiplex it must meet all contractual obligations at the site.
He said he had also asked the Queensland Building and Construction Commissioner to meet with Multiplex to ensure subcontractors were paid.
Topics:
business-economics-and-finance,
qld,
First posted

October 04, 2018 14:37:41