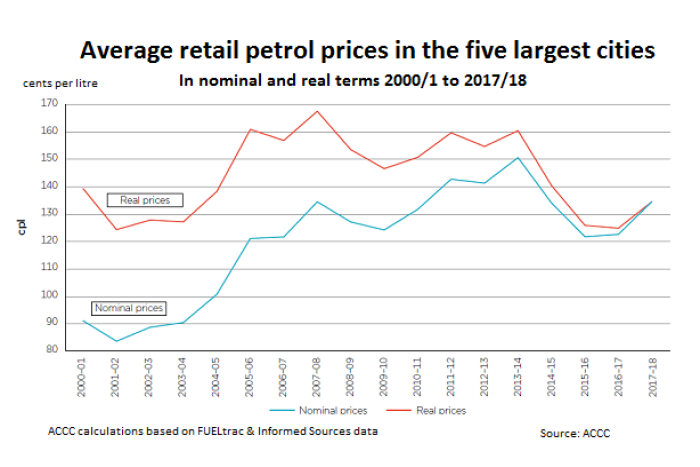 Petrol prices climb to four-year high, ACCC urges motorists to use comparison apps
Updated

August 21, 2018 15:33:14

Petrol prices in Australia's largest cities have climbed to their highest levels in four years, averaging $1.45 per litre for base grade petrol.
In the last three months, prices have risen by 7 per cent, and by almost 10 per cent in the last financial year, the Australian Competition and Consumer Commission (ACCC) said in its latest quarterly report on the Australian petroleum market.
Of the capital cities, Brisbane motorists paid the highest prices for 18 out of the last 24 months — compared to Sydney, Melbourne, Adelaide and Perth
Regional motorists paid about 4.4 cents per litre more in the 2017-18 financial year.
"The major factors driving higher prices were an increase in international crude oil and refined petrol prices, and a lower Australian-US dollar exchange rate," ACCC chair Rod Sims said.
"The OPEC [Organisation of Petroleum Exporting Countries] cartel in particular continues to have a damaging effect on Australian petrol prices."
In late-2016, the OPEC nations — which include Saudi Arabia, Iran and Iraq — and Russia (a non-OPEC producer) agreed to cut oil production by 2 per cent (or 1.2 million barrels a day), responding to a global supply glut which put downward pressure on oil prices and their profits.
Brent crude prices surged above $US50 per barrel immediately afterwards — and are trading higher today at $US72.17 a barrel at 1:50pm (AEST).
"This restricted supply into the market, which has clearly started to bite through steadily increasing petrol prices in the past financial year," Mr Sims said.
"A weaker Aussie dollar has also increased costs for wholesalers buying petrol for the Australian market [in US dollars], which flows through to consumers who pay for this at the pump."
Since hitting a high of 81.1 US cents (on January 26), the Australian dollar has steadily fallen as low as 72.37 US cents in mid-August.
Furthermore, the ACCC said petrol retailers are charging high gross margins for petrol, more than 50 per cent higher than their 16-year average.
Motorists can use comparison apps
Mr Sims has urged motorists to use free petrol comparison apps like MotorMouth, GasBuddy and Fuel Check (for NSW motorists) to put downward pressure on prices.
"If you look at the various apps, you can see there's a number of service stations with petrol prices lower than the higher price ones.
"You can save yourself money with just a small amount of effort — that's the best way to keep petrol retailers honest."
Despite the factors beyond consumers' control — like the weaker Australian dollar and OPEC oil cuts — the ACCC found that Australian petrol retailers have been charging higher margins.
The ACCC noted that average gross retail margins hit a record high in 2017-18.
"Current gross retail margins in the five largest cities are now over 50 per cent above the 16-year average since the ACCC began tracking this data," Mr Sims said.
Breakdown of petrol price components
| Petrol @134.5 cents/litre | Cents/Litre | Percentage |
| --- | --- | --- |
| International refined petrol price | 20.4 | 15 |
| Taxes | 52.7 | 39 |
| Other costs & margins | 61.4 | 46 |
Source: ACCC/FUELtrac/Platts/RBA
Avoid the peak of the cycle
He also recommended that consumers avoid refuelling at the peak of the price cycle, and to consult the ACCC website for information and graphs on petrol price movements.
"When to buy is important because in the main cities the petrol prices go up by 20 to 30 cents in a couple of days.
"If you can avoid those peak times, you'll save yourself a lot of money.
"If you have to fill up, just put a bit of petrol in and wait for prices to [get] cheaper."
For an individual tank of petrol, the savings might be few dollars (just 2.7 cents per litre) for each motorist in Sydney.
But over the course of a year, the ACCC estimates overall savings for all Sydney motorists would build up to about $95 million.
The annual savings were estimated to be:
Melbourne — $85 million (saving 2.5 cents per litre if they avoid refuelling at the peak of the cycle),
Brisbane — $45 million (saving 2.4 cents per litre), and
Adelaide — (saving 4.7 cents per litre).
Topics:
business-economics-and-finance,
First posted

August 21, 2018 15:00:30