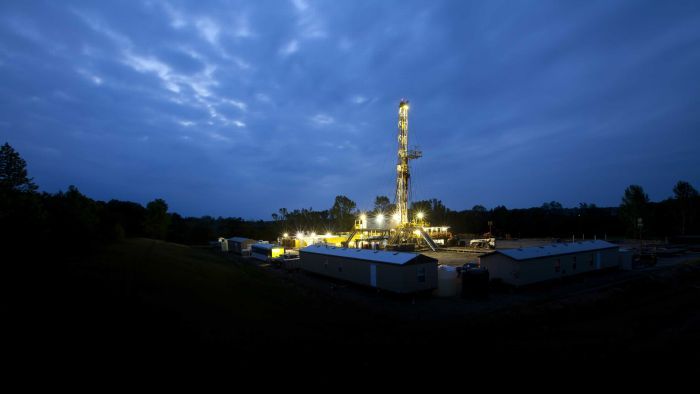 BHP sells US onshore oil and gas assets for heavy loss
Updated

July 27, 2018 11:26:12

BHP has managed to unload its contentious US onshore oil and gas assets, but at a very heavy loss.
In a statement to the ASX, BHP announced it had sold its interests in four large fields to energy giant BP and another US energy player for $US10.8 billion ($14.6 billion), a heavy discount to the $50 billion it has ploughed into the venture since 2011.
The venture has returned $14 billion in earnings over the past six years.
The result is at the higher end of market expectations.
Shareholder returns
BHP chief executive Andrew MacKenzie said the priority of the sale had been to maximise value and returns to shareholders.
"The sale of our onshore US assets is consistent with our long-term plan to simplify and strengthen our portfolio to generate shareholder returns for decades to come," Mr MacKenzie said.
BP will buy the Eagleford, Haynesville and Permian fields in two transactions, with half the amount being paid on the completion of the transaction and the other half to be paid in six equal instalments over six months after the deal is signed.
The remaining Fayetteville assets will be sold to Merit Energy for $540 million.
Both transactions are expected to be completed by October.
Another write-down
An earlier sale takes the total proceeds from the US retreat to $15.4 billion.
BHP said it would take a $3.8 billion post tax impairment on the carrying value of the assets.
The fields had incurred write-downs in value previously, including a more than $10 billion hit two years ago that dragged the company down to the biggest loss in Australian corporate history.
Mr MacKenzie said the transactions would cut BHP's debt to the lower end of its target $14 billion to $20 billion range, and the net proceeds would be returned to shareholders.
"We will confirm how, and when, at the time of the completion of the transactions," he said.
Investors welcome deal
RBC analyst Paul Hissey said he had assumed $11 billion in cash for the sale some time in the second half of year, so clearly a larger sum, sooner is a positive by comparison.
"While in our view there can be little doubt some investors have been positioning for this event — and the potential for additional capital management — the formal announcement and 'resolution' to a business many deem as problematic should also serve as a catalyst for the stock," he said.
"We will, however, need to wait until the deal is completed for additional clarification as to what form the returns will be provided to shareholders, despite it likely being a hot-topic at the upcoming financial results in August."
Investors' initial reaction was supportive of the deals, with the shares jumping more than 2 per cent to $34.95, the highest price in four years.
Including the demerger of South32, BHP has announced the divestment of around $25 billion over the past six years.
Topics:
First posted

July 27, 2018 09:39:06