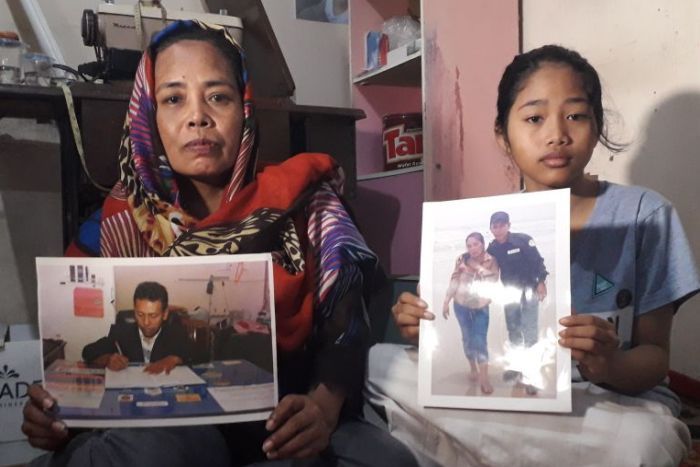 Environmental groups and victim's family call for justice in Borneo oil spill
Posted

April 07, 2018 05:05:49

Environmental groups want the head of Indonesia's state-owned oil company to be fired over an oil spill that has killed five people and polluted an estimated 80km of Borneo coastline.
Key points:
Five local men who were fishing in Balikpapan bay were killed
7,000 hectares of mangroves have been affected by the spill
Environmental groups say Pertamina president should be fired
It took five days for Pertamina to admit the spill came from one of its crude oil pipelines.
For days the company claimed the huge quantity of oil in the bay had come from a ship — even though there was no evidence of any ships sinking or running aground.
When the spill ignited, the fire killed five local men who were fishing in Balikpapan bay, including 41-year-old Imam Nurokhim.
His boat was trapped by the burning oil.
His widow Rohani Baso told the ABC that no-one from Pertamina or the local government had contacted her.
"I don't know how we're going to continue paying for our daughter," she said. "We've lost the family's breadwinner."
Imam worked as a designer and embroiderer in the local clothing industry and fished as a hobby.
Last Friday he left home in Balikpapan at 6am to go fishing with two friends.
"At dawn he woke me so we could pray together," said Ms Rohani.
"I wasn't aware of the oil spill until my nephew knocked at the door in the afternoon and showed me pictures of my husband's ID card that was found."
"I went to the port, asking around then I went to the hospital and found him laying in the morgue. My daughter found out from her friend's Facebook."
"I miss him — it feels so strange without him around. He's fun, and always trying to make me happy."
The local authorities say that 7,000 hectares of mangroves are affected and the spill has killed an estimated 8,000 mangrove trees and seedlings.
Photographs from Greenpeace show thick oil covering the area's sensitive coastal mangrove swamps.
Pradama Rupang from the Borneo environment group Jatam says the official clean-up is haphazard and the spill remains a risk to locals.
"People in the communities are joining the clean-up process and they are not equipped with safety gear like boots or gloves so they can avoid touching the oil directly," he said.
"If they touch it, their skin becomes irritated. This is very dangerous if they keep touching the oil."
He said locals were suffering because of Pertamina's lack of professionalism, and Pertamina president director Elia Massa Manik should be fired.
"The company should be charged with breaching environment laws, but this is mismanagement — someone in management should be charged also."
Topics:
asia,