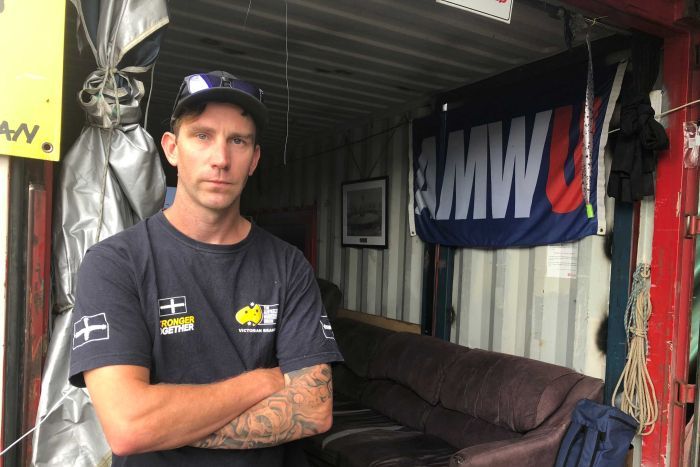 Worker protest continues as Exxon admits tax break
Posted

March 15, 2018 15:36:23

Former Esso Gippsland workers who have been in a pay dispute for almost nine months say if parent company Exxon is not paying tax in Australia, Esso can afford better conditions for workers.
Oil and gas giant ExxonMobil Australia revealed at a Senate inquiry yesterday it will not pay any corporate tax in Australia until 2021, despite earning billions in revenue.
The Senate inquiry revelations came as maintenance workers at the company's Longford plant in East Gippsland, Victoria continued their picket line, which has been running for almost nine months.
Exxon told the inquiry in Melbourne it had not paid any tax since 2013 because of legitimate write-offs from invested capital, debt costs and a lower income.
Earlier this year the Australian Tax Office revealed the company paid no tax on its $6.7 billion income in 2015-16, including on its Esso Gippsland basin operations.
Exxon tax manager Stuart Brown said the company was not likely to pay any tax until 2021.
"It does depend a lot on foreign exchange rate and crude prices," he said.
"Once we start paying we expect to be paying around $600 million a year, by the early 2020s.
Esso has 'serious questions to answer', union says
The Gippsland worker dispute started in June last year when existing workers refused to accept a pay deal from Esso contractor UGL, which slashed pay by 30 per cent, and reduced annual leave and other conditions.
Gippsland Trades and Labour Council secretary Steve Dodd, who helped organise the picket at Longford, said Esso had serious questions to answer.
"We are protesting about Esso not paying any corporate tax, but at the same time they are trying to slash and burn workers' wages and conditions," he said.
Longford worker Robert Dunsmuir has been out of work since the dispute started, despite trying to find another job.
He was standing with his former colleagues to fight the pay deal and increase awareness in the local community about the company's behaviour.
"Even if we don't win this dispute and we don't go back to work, we have highlighted Esso have paid no tax," he said.
Workers on the picket line have been struggling to make ends meet.
Former Esso rigger and scaffolder Shawn Fullerton, who was on the picket line this week, said the longer the dispute went on the harder it was on his young family.
"My other half has gone back to work and unfortunately this still isn't making our mortgage," he said.
"We have saved well but we are struggling at the moment to make ends meet."
Protesting for next generation
Another former Esso worker, Rob Sedman, said he was protesting to maintain fair wages for the next generation.
His daughter Jessie Sedman said she supported the cause and often stayed out at the protest site with her father, but it was hard without his income.
"Sometimes I have had to stop doing certain things, such as my musical instrument lessons," she said.
Exxon chief financial officer Craig Hardgrove told the hearing the company paid out $266 million in Petroleum Resources Rent Tax in 2016, and most people did not understand Australia's complex taxation rules.
UGL declined to comment.
Topics:
tax,