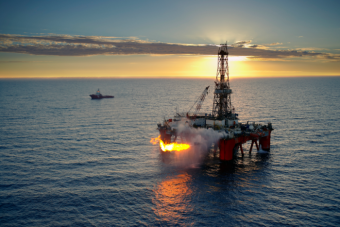 Takeover bidding heats up for oil and gas producer AWE
Posted

January 29, 2018 16:02:54

The bidding war for oil and gas producer AWE has developed into a three-way tussle between Australian, Japanese and Chinese interests.
Key points:
Japan's Mitsui enters bidding war for AWE with 98 cent cash bid for oil and gas producer
It trumps bids by Australian and Chinese rivals, but market expects more action
AWE is a joint venture partner with WA's Waitsia gas field, which could supply 10 per cent of Perth's future gas needs
The giant Japanese commodities trader Mitsui is the latest to enter the fray, lobbing a $600 million bid for the explorer and producer, which has fields in Western Australia's Perth Basin, as well as offshore interests in Victoria and Indonesia.
The non-binding cash bid of 95 cents per share represents a 15 per cent premium above the implied value of a bid made late last year by Perth-based iron ore and lithium miner Mineral Resources.
It is also about 75 per cent higher than AWE's share price when the state-owned China Energy Reserve and Chemicals Group (CERCG) announced its 73 cent takeover offer in November.
AWE's share price immediately leapt 16 per cent to 98 cents as investors speculated another higher bid was in the pipeline.
The rival bidders are all eyeing AWE's "jewel-in-the-crown", a 50 per cent stake in the Waitsia Gas project north of Perth.
The other 50 per cent is owned by Origin Energy spin-off Lattice Energy.
AWE describes Waitsia as, "The largest onshore conventional gas discovery in Australia for the last 40 years", and says it has the capacity to supply about 10 per cent of Western Australia's domestic market needs.
Investors told 'take no action'
The Mitsui bid is subject to AWE ending its takeover agreement with Mineral Resources by February 2.
RBC energy analyst Ben Wilson described Mitsui's bid as "relatively clean".
"While there is a break fee of $5.2 million potentially payable by AWE to MinRes, our reading of the scheme deed suggests this may not be payable in the event of a superior proposal and in any case it is minor in the context of the quantum of the bid," Mr Wilson told clients in a research note.
Mitsui is an active investor in Australian oil and gas projects with interests in WA'S North West Shelf, as well as a joint venture with AWE in the Casino project in Victoria's Otway Basin and a stake in the Meridian Filed in Queensland's Bowen Basin.
In an ASX statement, the AWE board said it will evaluate the Mitsui bid and release a recommendation "in due course".
It advised shareholders to take no action on either the Mitsui or CERCG offer until they receive further advice from the board.
Topics:
wa,