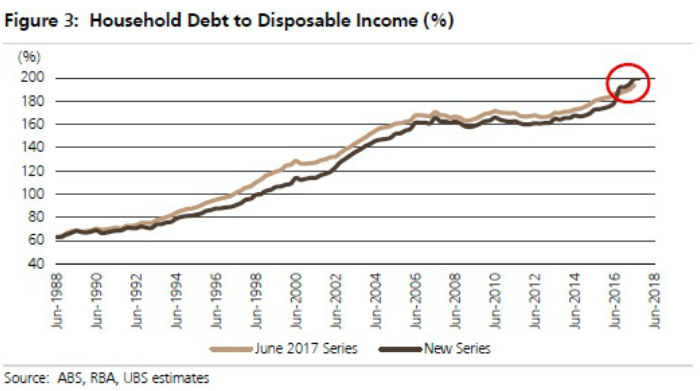 Household debt 'extremely elevated' and tipped to grow
Updated

January 18, 2018 17:03:19

Australia's household debt to income ratio has hit nearly 200 per cent, a level UBS analysts have called "extremely elevated" and "one of the highest in the world".
Total household liabilities have been revised upwards to $2.466 trillion, or 199.7 per cent of disposable income, by Australian Bureau of Statistics.
The revision was due to higher debt held within self-managed super funds, as the ABS is now incorporating new data from Australian Prudential Regulation Authority in its national accounts numbers.
UBS analysts expect households to become even more leveraged over the next one to two years, as income growth remains subdued.
"We expect total household debt to disposable income to peak around 205 per cent before the slow deleveraging process begins," analysts Jonathan Mott and Rachel Bentvelzen wrote.
UBS analysts believe the housing cycle has turned
As house prices continue to cool, particularly in Sydney, the UBS analysts see a number of brakes on the property market as "the housing bubble begins to deflate".
These include APRA's crackdown on interest only loans and the banks moving to improve lending standards amid scrutiny over "liar loans".
"Sentiment for investment into the housing market is waning, with the 'fear of missing out' euphoria fading quickly, especially in Sydney," the analysts wrote.
"Further, affordability remains a material issue."
The analysts also point to falling foreign demand for housing and added uncertainty from federal Labor's proposed negative gearing and capital gains tax changes.
What does it all mean for the big banks?
High household debt and the slowing property market led UBS analysts to downgrade their forecasts for housing credit growth.
Non-bank lenders, or "shadow banks", are increasing their share of the housing credit market while the big banks are feeling the squeeze, with UBS labelling the outlook "challenging".
Among the majors, the analysts singled out Commonwealth Bank, which has seen its housing credit growth slow sharply.
"While losing market share in any industry is usually not a good sign, we are not as concerned in this instance given the stage of the cycle," they wrote.
"We would be more uncomfortable if CBA had been actively winning housing credit market share!"
Overall, the analysts are tipping ongoing mortgage competition to add to pressure on the banks' net interest margins.
Topics:
First posted

January 18, 2018 17:01:50