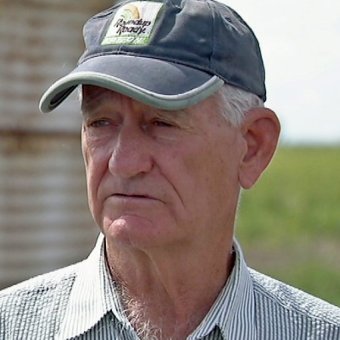 Farmer chases Linc Energy insurance documents to see if class action is viable
Updated

August 12, 2016 10:20:53

A farmer whose property adjoins the failed Linc Energy project on Queensland's Darling Downs is hoping the Supreme Court will force the company liquidator to hand over its insurance policy.
Linc Energy is accused of wilfully and unlawfully causing serious environmental harm with its trial underground coal gasification (UCG) plant at Hopeland on the Darling Downs by allowing contaminants to leech into surrounding farmland.
A report commissioned by the Queensland Government found Linc had caused "widespread" and in some areas "irreversible" damage to arable farmland.
The company was committed to stand trial on five environmental charges but has since been placed in liquidation.
Pamela Bender, who owns more than 800 hectares of land near the site, has filed an 1174-page application in the Supreme Court in Brisbane, arguing Linc's insurance documents would reveal whether a class action was financially viable.
Her husband George Bender took his own life last year.
At the time, the Bender family said George had died "from a broken heart" after fighting Origin Energy and other companies over coal seam gas mining on his property.
Their property Valencia is inside a 320-kilometre exclusion zone set up around the Linc trial site in 2015.
So far, 50 people have signed up to join any future class action.
In her statement lodged with the Supreme Court, Ms Bender said liquidator PPB Advisory had refused to provide access to Linc Energy's insurance policy.
The court documents show Ms Bender is seeking to pursue Linc Energy and its former directors, including Peter Bond, for damages to her land value.
"The Queensland State Government's testing, the scientific reports, the establishment of the [excavation exclusion zone] and the institution of criminal proceedings have all been the source of significant concern for myself and my family," she said in the documents.
"I wish to make a claim against Linc for diminution of my property as a result of the stigma affecting my land as a result of environmental contamination allegedly emanating from Linc's UCG facility."
Stephen Longley from PPB Advisory told the ABC if Mrs Bender or anyone else was successful in legal action against Linc Energy, they would join a list of unsecured creditors unlikely to receive their full debts.
He said the cost of that legal action might outweigh the return.
Mrs Bender and her daughter Helen Bender remain outspoken objectors to the coal seam gas and UCG industry.
The Queensland Government banned UCG activity earlier this year.
The Supreme Court application is due to be heard on August 23.
Topics:
coal,
First posted

August 12, 2016 09:31:56