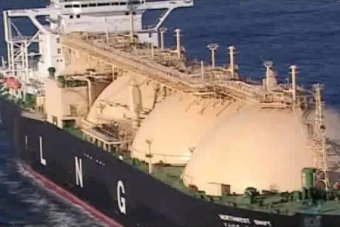 Australian industry choking on gas prices twice those of exports
Posted

August 01, 2016 18:53:40

The key ingredient in essential everyday items – from milk bottles and waste bins to eskies and pipelines – is made in a factory just outside Melbourne.
The polymer is made by a company called Qenos from Australian gas extracted from the huge fields of the Cooper and Surat Basins in the arid lands out near the Queensland, New South Wales and South Australian borders.
It's not just used for plastics. Foundries, food processors, wool scourers and all sorts of other businesses rely on that gas as a cheap, clean and reliable source of heat and power.
At least, they used to. Many of those businesses now find themselves under threat as a result of soaring gas prices that have rendered them uncompetitive on the global stage.
Adding insult to injury, it is Australian gas flooding into Asia that has caused a regional glut. Prices have collapsed and Asian manufacturers can now buy Australian gas at half the price local manufacturers are paying.
"Companies will shut, jobs will go," warns Dow Chemical Australia chief executive Tony Frencham.
It's a sentiment echoed by Qenos managing director Jonathan Clancy.
There is no question we are at crisis point.
According to the Australian Industry Group's Tennant Reed, the long run wholesale average price has soared from $3 to $4 a gigajoule on average to around $6 or $7 a gigajoule, occasionally peaking at far higher prices.
"At times they have been $12, $15 or $20 a gigajoule," he said.
According to Mr Clancy, the situation is likely to deteriorate further.
"The situation for us is that we can see those prices escalating in the vicinity of 50 per cent," he says.
It is not just the price. Major manufacturers such as Qenos and Dow Chemical are also worried about supply.
World leading gas producer with domestic shortages
It's a paradox. Australia is home to some of the largest gas deposits in the world. But a $200 billion investment in liquefaction and shipping facilities has transformed it into the world's biggest gas exporter.
Three massive new plants at Curtis Island, just off Gladstone on the Queensland coast, are contracted to supply Asia with gas. An unintended consequence of this gas bonanza, however, has been to create shortages at home.
"We've got the perfect storm just now," says Qenos's Jonathan Clancy.
"We've had the Gladstone LNG projects come online, we've got a collapse in the oil price which means exploration isn't taking place and then we've got these moratoriums on onshore gas development preventing us from getting access to conventional onshore gas."
The exporters, struggling to fulfil contracted orders written years ago when the plants were in planning stage, have begun raiding gas from the domestic market to meet their contracts.
Mr Frencham says the contracted price Dow has been forced to pay will increase 50 per cent this year.
Apart from that being outrageous, that is going to put us well above international gas pricing in any of the free markets in the world.
Japan is our biggest buyer. Businesses there have been reportedly able to buy Australian gas at around half the price to that available to Australian manufacturers.
By several estimates, Asia will be awash with cheap Australian gas until at least 2022.
According to Mr Reed, spot gas prices in east Asia are as low as they have been in living memory.
"So we have not just a loss of a source of advantage but gas prices have become a source of competitive disadvantage," he says.
Companies leaving Australia, halting expansion plans
Global chemical maker Incitec Pivot was planning to expand in Australia but instead diverted its cash to Louisiana in the US.
"It simply couldn't get long term credible gas prices it could depend upon," said Mr Frencham.
"I know of another company here I can't name who has closed a plant … wanted to in fact expand the plant but could not get long term gas pricing at an affordable level and is now looking offshore."
A 2012 report from NIEMIR claimed that for each dollar gained from gas exports $21 in economic activity was lost.
Even more concerning, a Deloitte report predicted that high gas prices could result in the loss of up to 15,000 manufacturing jobs as industries shut down.
"It doesn't allow us to plan any expansion," says Dow's Mr Frencham.
"I can't go to my international leadership and propose anything to them because I don't know what the price of gas is going to be."
Jonathan Clancy has a similar lament.
"The thing that we had to our advantage was energy and we must find a way to quickly get that opportunity back," he says.
Australia 'needs more gas supply'
Newly appointed Energy Minister Josh Frydenberg has put reform of the national electricity market and gas at the top of his agenda.
"We need more gas supply and more gas supplies in Australia, and gas is an important part of the energy mix," he said in a recent interview on ABC's Lateline.
That's music to the industry's ears.
"The gas producers need all the help and assistance that they can so they can bring supply to market, because that's what we need; more supply."
The Australian Energy Market Commission last week called for major reform to the gas network.
Key to this is greater transparency; lifting the veil on supply and prices and making it easier for industry to negotiate.
There is also pressure mounting on state governments to lift bans on gas exploration, a topic that is likely to be hotly debated when the COAG Energy Council meets later this month.
Topics: