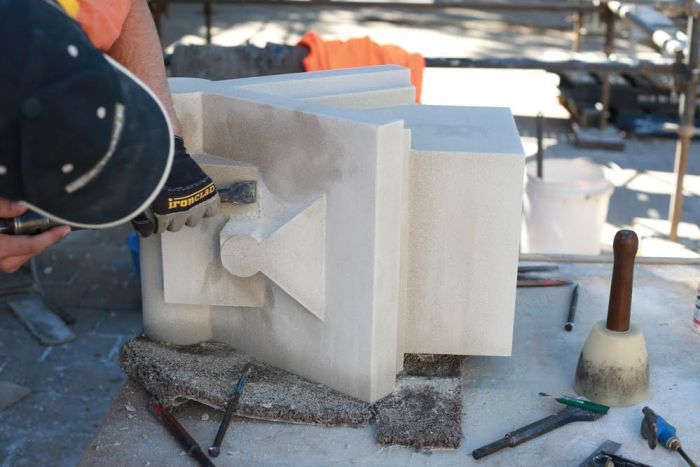 Cyclone Marcia repairs underway at Central Queensland Anglican cathedral
Posted

July 29, 2016 16:10:47

A Rockhampton cathedral damaged when tropical cyclone Marcia crossed the Central Queensland coast 18 months ago is now being repaired.
St Paul's Anglican Cathedral, built in 1883, is currently shrouded in scaffolding while plumbers and stonemasons restore the heritage-listed building to its former glory.
Anglican Diocese of Rockhampton registrar David Rees says the roof was damaged when the cyclone hit in February 2015, but they didn't realise the full extent of the damage until storms in December.
"We've been working with insurance company, engineers, and architects ever since then to make the roof safe, to determine the extent of the damage, design the repairs, and get all that approved by the Department of Environment and Heritage Protection," Mr Rees said.
The project is expected to be completed by December and cost about $2 million, including up to $1.75 million to repair the roof and the rest for other work such as restoring age-damaged stained glass windows.
"The lead in the leadlighting breaks down over time, so if we don't fix that lead it'll just collapse," Mr Rees said.
"The window has to be taken out, taken to Brisbane, and all the leadlighting restored.
"There are some broken panels, so they're going to have to be repaired.
"Then it's going to be necessary to put a modern toughened glass protective sheet on the outside that allows the light through but prevents damage from storms."
Insurance will contribute $1.6 million to the work, and Mr Rees says the rest will be funded by the diocese, grant applications, and parish fundraising.
Mr Rees says it's a major project at a time when the diocese "isn't flush with funds", but the diocese and the local parish have a duty to maintain the cathedral for future generations.
"We have to accept the obligation that's come to us here at this time," Mr Rees said.
"The current roof's lasted 130 years, we're hopeful what we're doing now will give it another 130 years."
Classical Stone Australia has been contracted to do the work, and director Kent Roxborough says having the whole cathedral scaffolded is an opportunity to take care of other maintenance issues as well, like replacing the cross on top of the building.
"A few years ago we did a make-safe inspection around the cathedral and identified a couple of areas in urgent need, and the cross was one of those," Mr Roxborough said.
"The cross was taken down about four and a half years ago and has been waiting for an opportunity like this to go back.
"The challenge with an old building like this — no matter whether it's sandstone, brick or timber — is to be focused on the real need, and not get carried away tending to minor issues that would be inherent to an old building."
Mr Roxborough says the work will employ four or five plumbers and four stonemasons.
Anglicans and Catholics join forces to honour local identity
While regular services will continue during the work, larger events like weddings and funerals can't be held at the cathedral until the work is finished.
That restriction will affect the funeral of Neville Hewitt, well-known former Nationals MP and serviceman awarded the Military Medal, who passed away on July 19 at 95 years of age.
Rockhampton's Catholic community stepped in to help, with Mr Hewitt's Anglican funeral service to be held at St Joseph's Catholic Cathedral on August 6.
"It's wonderful we can work together," Mr Rees said.
"It's probably something to mourn that it hasn't been like that for the history of Christianity, but the reality is we're getting away from things that have divided us and looking more at the things that unite us."
Topics: