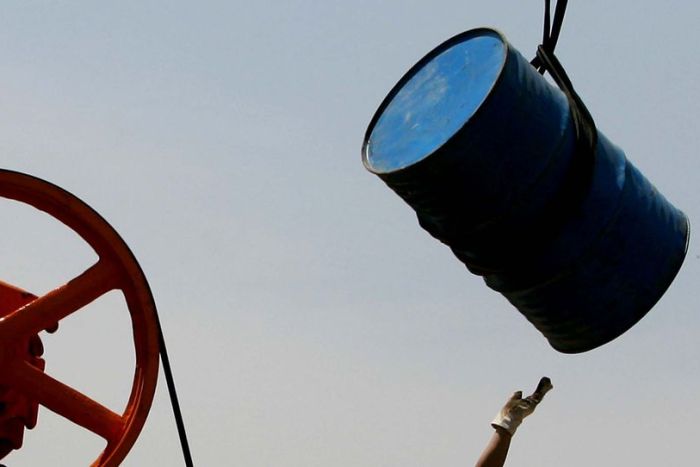 Morning markets: US shares drop on oil company 'capitulation'
Updated

July 26, 2016 08:42:12

Oil stocks pulled Wall Street away from record highs ahead of the US Federal Reserve's policy meeting this week.
Markets at 8:30am (AEST):
ASX SPI 200 futures +1 point at 5,484
AUD: 74.71 US cents, 67.95 euro cents, 56.89 British pence, $NZ1.067
US: Dow Jones -0.4pc at 18,493, S&P500 -0.3pc at 2,168, NASDAQ -0.1pc 5,098
Europe: FTSE -0.3pc 6,710, DAX +0.5pc at 10,198, Eurostoxx50 +1 point at 2,973
Commodities: Brent oil -2.2pc at $US44.67/barrel, gold -0.4pc at $US1,316/ounce, iron ore +0.2pc $US55.80/tonne
The Dow Jones Industrial Average lost 0.4 per cent, with Chevron's 2.5 per cent fall and Exxon Mobil's 1.9 per cent slide leading the blue chip index lower.
West Texas crude oil dropped to a three-month low of $US42.40 a barrel on worries about a lingering global supply glut, with the global benchmark Brent price also down.
IG's Angus Nicholson said the crude moves, which at one point took prices below $US42 a barrel, were the main market driver.
US markets were dramatically thrown off course by the capitulation in energy stocks overnight.
"Markets are concerned that the growing gasoline inventories during the US's peak driving season, alongside the steady increase in the Bake Hughes drill rig counts, are likely to see US crude oil inventories blow out to record levels again in the second half of the year."
Yahoo, which is not on the blue chip index, dropped nearly 3 per cent after agreeing to sell its core business to Verizon Communications for more than $6 billion.
Verizon, which is included in the Dow, dropped 0.2 per cent.
Europe was mixed – while London fell, most major continental markets rose modestly.
In Australian futures trade, the ASX SPI 200 was indicating a fairly flat start to the local trading day.
Spot gold fell ahead of central bank meetings this week in the US and Japan.
The benchmark price of iron ore in China edged up just 10 cents yesterday and remains just below the May Australian Government budget forecast.
The Australian dollar has come off its overnight low against the greenback and bounced back to around 74.71 US cents.
Today's agenda:
Australia:
Consumer confidence, weekly survey – (9:30am AEST)
US:
New home sale – June (12:00am AEST)
Consumer confidence – July (12:00am AEST)
Topics:
First posted

July 26, 2016 08:38:28