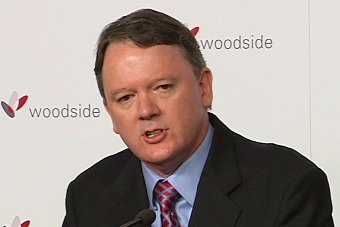 Woodside hit by lower prices and sales
Posted

July 21, 2016 10:54:42

Tumbling LNG prices and lower sales have taken their toll on Woodside Petroleum's second quarter revenue stream.
Revenue for the three months to June came in at $825 million, a 16 per cent fall on the previous quarter and 8 per cent down over the year.
Sales and production also slipped over the quarter due to maintenance work on North-West Shelf facilities.
However, over the year, production and sales were up 10 per cent and 8 per cent respectively as the giant Pluto field moved to full-scale output.
Woodside chief executive Peter Coleman said the business was performing well in a challenging environment.
"Lower sales revenue for the quarter largely reflected the three-month lag in oil-linked LNG contract pricing," Mr Coleman said, while forecasting the company would see the benefit of recent higher oil prices flowing through in the next quarter.
While June quarter revenue was below market expectations, Woodside opened marginally higher, up 0.5 per cent to $27.48, largely thanks to oil prices edging higher overnight.
Topics:
wa,