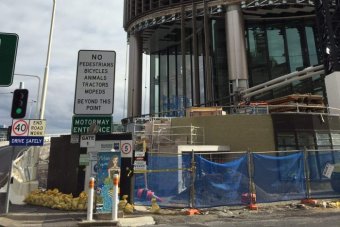 Asbestos-tainted firm wants to prevent future mistakes
Posted

July 18, 2016 19:48:17

A Chinese company at the centre of an asbestos contamination scandal involving government building projects in Perth and Brisbane, says it has taken steps to ensure the issue cannot be repeated.
Yuanda Australia, a subsidiary of Chinese multinational manufacturing firm Yuanda Holdings Limited, supplied asbestos-tainted roof panels to the Perth Children's Hospital project, sparking health fears for dozens of workers and prompting parts of the site to be locked down.
Yuanda also supplied gaskets contaminated with the potentially deadly substance to a tower under construction in Brisbane that will become the new government executive building.
Outgoing managing director Paul Dawson told the ABC the contaminated product was supplied by a third party to the firm's China-based manufacturing plant, and had unknowingly been used on the two projects in question only.
He also said the supplier had provided a fraudulent test certificate saying they were asbestos-free, but they would never use this supplier again.
"There's never been an issue about cost in front of quality in our business in Australia at all," he said.
"What we're doing now going forward is we won't be accepting any test certificates from China directly.
"Any material used on any facade going forward will be tested in Australia by a third party."
He said the company was auditing and testing about 10 more randomly-selected products at Australian projects they had supplied, to ensure peace of mind.
Three directors stand down from Australian operations
The asbestos scandal is the latest blow to the company, which has faced tough economic conditions and lost three directors from its Australian arm in the past half year.
The parent company slid into the red last year, posting a loss of $33 million.
Mr Dawson resigned as a director on June 14 prior to the issue of asbestos contamination becoming known saying he was "looking to other opportunities".
On March 20, former director Pengyue Zhang, based in New South Wales, also left, following China-based Lian Xue Yan in December.
Mr Dawson said Mr Lian had resigned, while Mr Zhang was "doing other things" in his life and had decided to move on.
Mr Dawson and Mr Lian had all been directors of the company since 2007, while Mr Zhang had been a director since 2006.
On July 13, just days after the Brisbane asbestos scandal came to light, WA-based Kevin Angus was appointed company director.
All other directors of the Australian arm are now based in China.
First-ever loss posted last year
Parent company Yuanda Holdings Limited reported a 14.4 per cent drop in revenue in 2015 to 8.5 billion RMB ($1.7 billion) year to year.
The multinational group's revenue from the Australian region was the highest outside of domestic China, generating 885 million RMB in 2015, down from 919 million RMB the previous year.
The group made an overall loss in 2015 of 168 million RMB, down from a profit of 51 million RMB the year before. This was the first loss the company had ever posted since listing on the Hong Kong stock exchange in 2011.
The company cited China's economic downturn and sluggish construction industry for the loss.
The domestic real estate industry has contracted in the middle kingdom, while the company also suffered reduced revenue in its middle east and Australian markets.
Yuanda's annual report said it would look to international markets to buoy its bottom line.
Topics:
business-economics-and-finance,
wa,