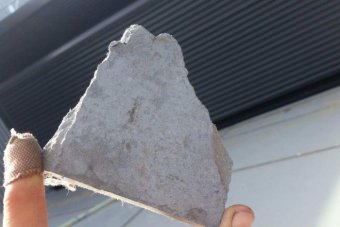 Asbestos scare prompts investigation of 10 more WA buildings
Posted

July 15, 2016 20:25:26

At least 10 buildings in Western Australia built with products from Chinese company Yuanda will be investigated for asbestos risks, but the WA Building Commissioner says the number could be even higher.
While Peter Gow would not name them all, he said they included private buildings and key WA government projects, like the new Perth Stadium, Fiona Stanley Hospital and Perth Children's Hospital.
Concrete roof panels at the hospital supplied by Chinese building and manufacturing firm Yuanda have been found to contain asbestos, with workers exposed to the dangerous fibre on Monday.
The WA Building Commission is undertaking a wide-ranging audit of asbestos-contaminated building products as a result of the asbestos scandal surrounding the Perth Children's Hospital.
"We've been informed that there have been a number of other buildings in Perth that have used Yuanda products and we will be investigating all of those," Mr Gow said.
"The number that's been reported to me has been in the order of 10 or 12 but there may well be more than that."
The audit looks likely to become a massive undertaking, with Mr Gow saying it will examine Border Protection records to identify the companies which had used Yuanda products and the projects they had used them on.
Yuanda had been importing products into Australia since at least 2006.
"Clearly asbestos products have been brought in," he said.
"There's been a potential asbestos exposure.
"If the are more of those products around, other people could be exposed. The quicker we find them and deal with them, the better."
Mr Gow said he expected to finish the audit of the children's hospital in two weeks, allowing it to open in time, but it could take a long time to identify and test all potentially dangerous products.
But this was the first step in the investigation, which could extend to asbestos-containing products supplied by other companies.
"Clearly Yuanda is in our focus at the moment," he said.
"But if we have evidence that other importers are bringing in products which might require investigation, we will investigate.
"But it's very early at this stage to know where this goes."
The ABC repeatedly attempted to contact Yuanda Australia for comment.
Topics: