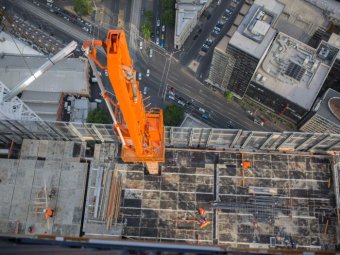 Construction sector growth hits 10-month high
Updated

July 07, 2016 10:55:46

The construction sector swung sharply from contraction in May to its highest level of growth in 10 months in June.
A month after the Reserve Bank cut the official interest rate to a fresh record low of 1.75 per cent, the Australian Industry Group's Performance of Construction Index (PCI) jumped 6.5 points to 53.2.
The result above 50 indicates that construction activity was once again expanding, and at the fastest pace in 10 months.
Growth in the overall index was driven by the first increase in new orders in eight months, with current activity and employment also higher.
In a very promising development, all four sub-sectors of the PCI recorded growth, even the struggling engineering sector that has been bearing the brunt of the mining investment collapse – this sector rose 7.3 points in June to 50.7.
Commercial construction, such as office blocks and retail, also swung back into the positive at 53.3.
However, it is residential construction that continues to lead the way, with apartment activity up 13.7 points to 55.2 and house building recording its fastest rate of expansion in two-and-a-half years at 62.1.
The Ai Group's head of policy Peter Burn said that trend is likely to continue early in the new financial year.
"The residential sub-sectors of house and apartment building were the standout performers both in current activity and in new orders, suggesting they are on track to continue their expansionary run over the near term," he wrote in the report.
"While making positive contributions to current activity, the commercial and engineering construction sub-sectors both recorded a drop in new orders in June, providing less cause for optimism about the first quarter of the new financial year."
The bad news for construction firms was that wages (63.1) and input prices (67.5) continued to rise strongly.
Topics:
First posted

July 07, 2016 09:32:13