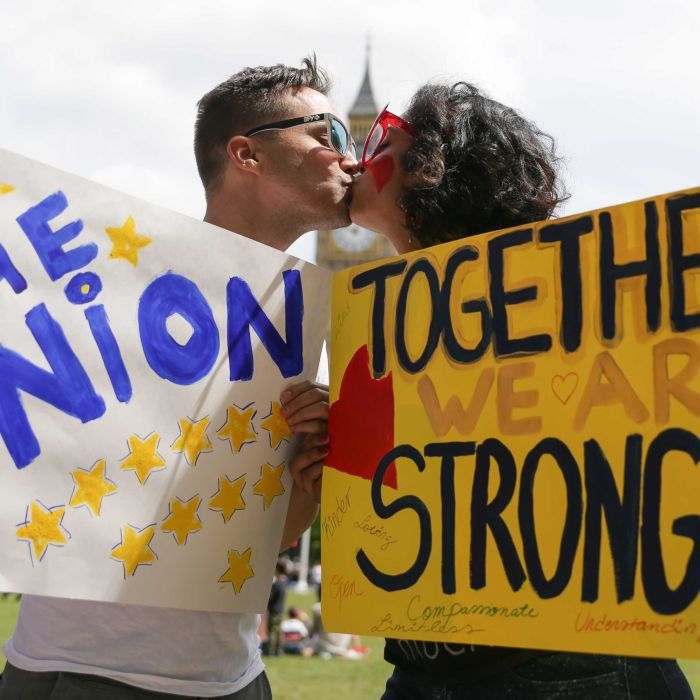 Wall Street bounces back as early Brexit polls suggest Remain on top
Posted

June 24, 2016 09:20:20

Wall Street bounced back from recent weakness overnight, with investor sentiment boosted by polls showing support for Britain remaining in the European Union had strengthened.
Stocks fell most of last week, when it looked as though the campaign to leave the EU might prevail.
Investors were concerned about the potential impact on Europe's economy, and possible fallout for global economic growth.
Official figures in the US revealed the number of Americans filing for unemployment benefits fell last week to a near 43-year low.
Initial applications for state unemployment assistance fell by 18,000 to a seasonally adjusted 259,000 for the week ending on June, 18.
That drop was the biggest since February.
It indicates a robust labour market, even though a recent separate report suggested hiring slowed sharply in May.
Claims have been below 300,000 for 68 straight weeks, which represented the most consistent run since 1973.
The 300,000 level is a key threshold associated with a strong employment market.
Elsewhere, manufacturing activity rose to a three-year high in early June.
Among the sectors, financial stocks outperformed and by the close, the Dow Jones Industrial Average had gained 1.29 per cent to 18,011.
The S&P 500 Index added 1.34 per cent to 2,113 and the Nasdaq jumped 1.59 per cent to 4,910.
European markets also rallied strongly and in London, the FTSE 100 Index closed 1.23 per cent higher at 6,338.
The local market was on track to follow suit and at 6.50am AEST, the ASX SPI 200 was up 1.1 per cent to 4,292.
At the same time, the Australian dollar was buying 76.04 US cents, having surged by 1.4 per cent overnight.
On the cross-rates, it was worth 66.82 eurocents, 51 British pence, 80.6 Japanese yen and $NZ1.04.
West Texas Crude oil had edged up to $US49.26 a barrel, Tapis had eased to $US50.62 a barrel, and spot gold had fallen slightly to $US1,256.16 an ounce.
Topics:
gold,