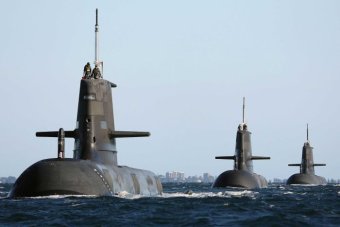 Much to learn from Collins class submarines, defence analysts say
Posted

April 26, 2016 19:30:24

Thirty years after the Collins class 'dud subs' were built, and 20 years since they hit the water, defence analysts warn Australia should pay close attention while building their replacements and learn from previous mistakes.
Following the announcement a French company had won the contract to build Australia's next fleet of submarines, experts said there were bound to be problems.
Mark Thomson, a senior analyst at the Australian Strategic Policy Institute (ASPI), told PM with a project of this size and complexity, delays were unavoidable.
"We have to go into this project with our eyes wide open and realise there will be problems," Mr Thomson said.
"We are not going to get a set of drawings sent to us from Paris, which is like an IKEA flat pack; this is not an easy undertaking. This is going to be one of the most challenging industrial undertakings that has ever been done in Australia."
Dr Stephan Frühling, an associate professor in the Strategic and Defence Studies Centre at the ANU, said contingencies would need to be built into the budget.
"Every country that does this runs into problems. It's just whether you have the capacity and the expertise and the resources to deal with those problems when you are essentially operating at the technical frontier," Dr Frühling said.
He added that delays in the design phase were not necessarily a bad thing.
"Ultimately most of the programs that run into very significant problems are those where not enough time and effort is invested — before the first steel is cut — in finalising the design, and testing things, and making sure that one eliminates all the issues that could occur before one actually cuts steel and puts boats in the water," he said.
'We have made mistakes'
The Collins class submarines were beset by myriad design and maintenance issues and were ridiculed as 'dud subs'.
The new generation of subs will not be ready until the early 2030s, so the life of the beleaguered Collins fleet will need to be extended by five to six years.
Mr Thomson said we could learn from mistakes made in both the construction and maintenance of the Collins class submarines.
"The construction of the submarines, we had a situation where we tried to be too ambitious," he said.
"We tried to have our own unique combat system built into the submarines and we faltered twice on that front. And finally we had to get the United States to come and bail us out and put a US combat system on the submarines.
"In terms of the maintenance of the submarines, I think it's not too harsh to say that we spent more than a decade mismanaging a multi-billion-dollar class of critical defence assets."
Biggest risk is one 'no-one's talking about'
Design and construction are not the only areas of concern for Australia's next generation of submarines.
"I think one of the risks is something that no-one's talking about at the moment," Mr Thomson said.
"Setting aside the technicalities of this project, we don't have an industrial plan for building them. We don't know what's going to happen to the ownership of [South Australian shipbuilder] ASC. We don't know who the chosen designer is going to team with in Australia to actually build the submarines.
"The commercial arrangements are going to be absolutely critical because that's going to provide the incentives for the players in this massive project to either deliver or to cruise or to try and transfer risk back to the Commonwealth."
Topics:
defence-and-aerospace-industries,
defence-and-national-security,
navy,