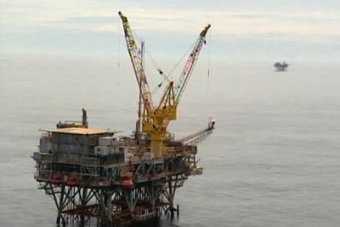 Gippsland MP confident jobs secure amid Esso Bass Strait sale plans
Updated

June 20, 2016 12:44:36

Gippsland federal MP Darren Chester is confident oil and gas from Bass Strait will continue to be used for energy production, despite Esso's plans to sell its interests.
Esso Australia has confirmed it is looking to market some of the offshore Gippsland Basin fields, licences and associated offshore infrastructure to third parties.
Mr Chester said the jobs would still be there in the future but it would be important to ensure they were filled by local workers.
He said the region would still play an important role in oil and gas production.
"If there is a commercial decision made to sell some of its assets then I look forward to working with the future owners as well," he said.
"The bottom line is we provide a very important source of energy out of the Gippsland region in terms of the oil and gas out of Bass Strait and it's something that will continue in the future and the jobs will continue.
"The jobs will still be there in to the future, it's a matter of making sure that those jobs are secured for local people – more than anything else I want to make sure those investments continue into our community.
"Into the future if there's decision made of a business nature to sell part of that off, for whatever reason Esso makes that decision, I'd be keen to make sure any new buyer, any new owner works as closely with the community as Esso has."
Union worried about jobs
The National Union of Workers is concerned the potential sale of Esso and BHP's Bass Strait oil and gas operations could put jobs at risk.
Esso and unions have been at loggerheads for the past 18 months over a new enterprise bargaining deal for onshore and offshore workers.
Union secretary Ben Davis said workers were now facing growing uncertainty over their future.
"Really affects the offshore workforce and the contractors that support them," he said.
"So we're talking about 600 odd people, and more to the point their communities, because they're all local workers, they're not 'FIFOs' [fly-in, fly-out], they don't come in from the other side of the country, they all live within half an hour, an hour, from the heliport at Longford."
The company declined to comment further.
Topics:
work,
First posted

June 20, 2016 12:16:17