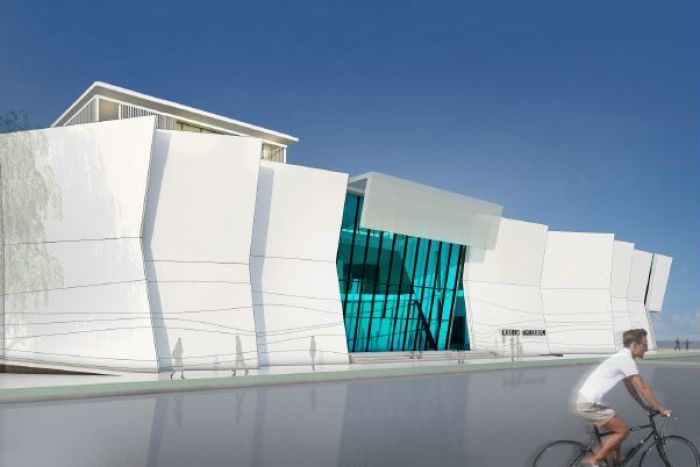 Construction begins on $50m Cairns Aquarium
Updated

April 18, 2016 11:24:36

Large-scale construction has begun on the $50 million Cairns Aquarium, the first public aquarium to be built in Australia in 17 years.
When completed, the tourism attraction will be the second largest publicly accessible aquarium in Australia.
We've made a really key point of only having creatures that are endemic to this region.


Daniel Leipnik, CEO Cairns Aquarium
"We're going to be at about 7,500 square metres, whereas Sydney Aquarium is about 7,000 square metres and Melbourne Aquarium is about 6,000 square metres, so it's certainly a world class and very substantially sized public aquarium," said the project's CEO, Daniel Leipnik.
The site of the aquarium, in the heart of the Cairns CBD, will today take delivery of more than 390 cubic metres of concrete, delivered in 80 truckloads, over a nine-hour period.
"The guys have actually been on site doing construction for four-and-a-half months now," Mr Leipnik said.
"[Today] they're pouring just the base of the actual 2 million-litre Great Barrier Reef tank, which is the single largest tank out of 69 tanks that'll be on site."
Northern Australia the main attraction
Mr Leipnik said all of the 15,000 individual fish and aquatic animals that will inhabit the aquarium have been locally sourced.
"We've made a really key point of having only creatures that are endemic to this region," he said.
"There's no penguins from Antarctica, there's no African cychlids, there's no cold water species; everything is about giving visitors a real feel for the biodiversity that's in this region."
Among the animals residing in the aquarium, will be a number of highly endangered species that Mr Leipnik hoped could be bred in captivity and reintroduced to the wild to bolster populations.
"Things like golden-sleepy cod — there's only 100 of them left in the wild — are on the complete verge of extinction," he said.
"Also things like freshwater sawfish, which are also incredibly endangered and northern Australia has the last remaining stock of those in the wild.
"And then some really rare and bizarre things like ribboned pipefish, which are a wet tropics version of the weedy sea dragon."
Construction on the project is scheduled for completion in early 2017, with doors and exhibits open to visitors in April 2017.
Topics:
fish,
endangered-and-protected-species,
First posted

April 18, 2016 10:52:01