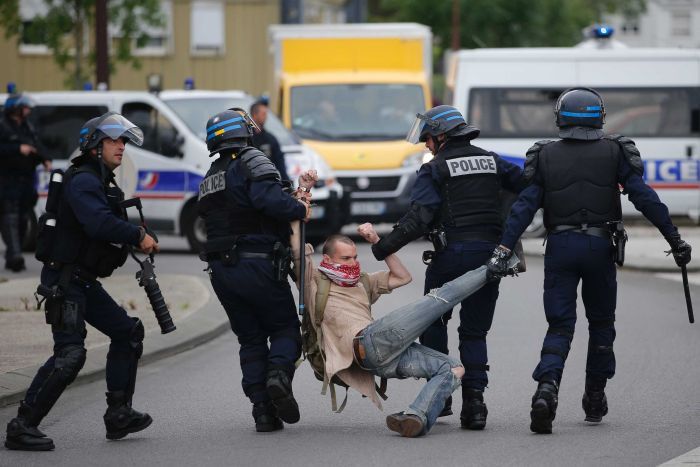 Hollande says he won't let protesters choke economy
Updated

May 27, 2016 23:32:02

French President Francois Hollande has warned anti-reform protesters that he will not let them strangle the economy, as riot police removed picketers and barricades blocking access to a large fuel distribution depot.
Key points:
Hollande says economy is picking up, should not be derailed by protests
Concerns mount about disruption to Euro 2016
Union members vote to extend their strike until Monday
Speaking in Japan after the G7 Summit, Mr Hollande said France's economy was starting to pick up and should not be derailed by opponents of a reform designed to make hiring and firing easier to boost employment.
"I will stay the course because this is a good reform and we must go all the way to adoption," Mr Hollande said.
"This is not the time to put the French economy in difficulty."
The police operation to free up a fuel depot near the Donges oil refinery in western France followed similar swoops at other depots this week to ease petrol shortages caused by picketers fighting planned labour law reforms.
Although concerns were mounting about potential disruption to the Euro 2016 football tournament which begins in two weeks time, evidence elsewhere in the energy sector indicated a slightly less tight supply compared with the previous day.
Some 741 of oil major Total's 2,200 filling stations were out of fuel compared with 784 a day earlier.
Separately, the hardline CGT union said its members at the CIM oil terminal at the port of Le Havre, which handles 40 percent of French crude oil imports, had voted to extend their strike until Monday.
More than 1,300 arrested over violence
Some evidence to back up Mr Hollande's remarks on the economy emerged on Friday in consumer confidence data collected in May.
The official consumer confidence index surged past even the highest estimate to reach the highest level since October 2007, before the global financial crisis broke.
Hundreds of thousands of people have taken to the streets over the past three months for protests marred by violence on the fringes in which hundreds of police have been hurt and more than 1,300 people arrested.
Mr Hollande, who faces an election a year from now plagued by dismal popularity ratings and high unemployment, says the labour reform is vital to tackle joblessness, which has dipped for two months in a row but remains close to a rate of 10 per cent.
The reform, which the CGT wants withdrawn, would make it easier for companies to lay off staff in difficult economic times — it would also allow firms to opt out of national labour protection rules if they strike in-house deals on pay and conditions, with the consent of a majority of their staff.
French protesters attacked a police station and smashed bank windows at rallies against the reform, while the CGT members sought to choke off fuel supplies.
Seventy-seven people were arrested during nationwide street demonstrations on Thursday in which more than 150,000 marched, according to the Interior Ministry.
Reuters
Topics:
international-financial-crisis,
business-economics-and-finance,
First posted

May 27, 2016 22:59:17