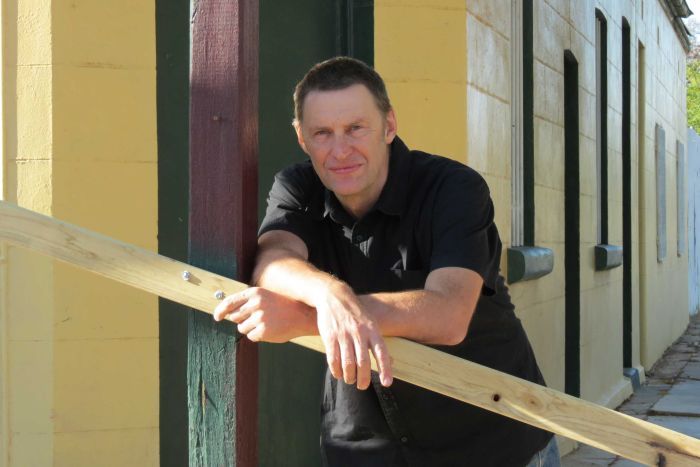 Artist aims to bridge differences in Wilcannia by repurposing pub
Posted

May 06, 2016 18:49:26

An artist with plans to repurpose an 1860s pub in the town of Wilcannia, in far-west New South Wales, says he wants to make the area more open to visitors.
Andrew Stacey moved from Victoria to Wilcannia to buy the Queens Head Hotel and settled the purchase in February.
The building is no longer licensed and closed as a pub more than two decades ago, but is still fitted out with its original corner bar and bedrooms, and retains its historic architecture.
Mr Stacey is planning to preserve the building but wants to convert it into a public space for the town, which could include basic accommodation, galleries and studio space for artists.
He said the involvement of the local Indigenous community would be key to the project.
"First of all, I'm repairing the building, and during that time out of respect to the elders of the community I would like to have the opportunity to speak to them and listen to what they think could be good for the town of Wilcannia," Mr Stacey said.
"My ideas [are] one thing but it's better to hear from the elders.
"People once gathered here to drink beer and spirits [but] they've always gathered here to converse, to meet, to form friendships, to have arguments.
"In some ways, without grog, that could be a really good use for this building to again be a public house."
Mr Stacey said he wanted the Aboriginal community to help restore the building and on completion help manage the space, which he hoped would break down barriers between locals and visitors.
"Since my first visit to Wilcannia [four years ago], I was fairly taken by the way the township is closed to visitors. There's a number of cultural reasons and a number of practical reasons why it feels like that," Mr Stacey said.
"It struck me how good it would be if the Barkindji people were able to present themselves to the visitors that come through, and present their culture, and demonstrate how it matters to them and how it matters to Australia."
Mr Stacey said he would apply for grants and use his own money to cover the cost of renovating the hotel.
"This is an opportunity I just couldn't let go. I love this country around here, I love painting it, I love being in it.
"I love the mighty Darling River, the way it runs through the desert here."
He hopes to complete the project within the next five years.
Topics: