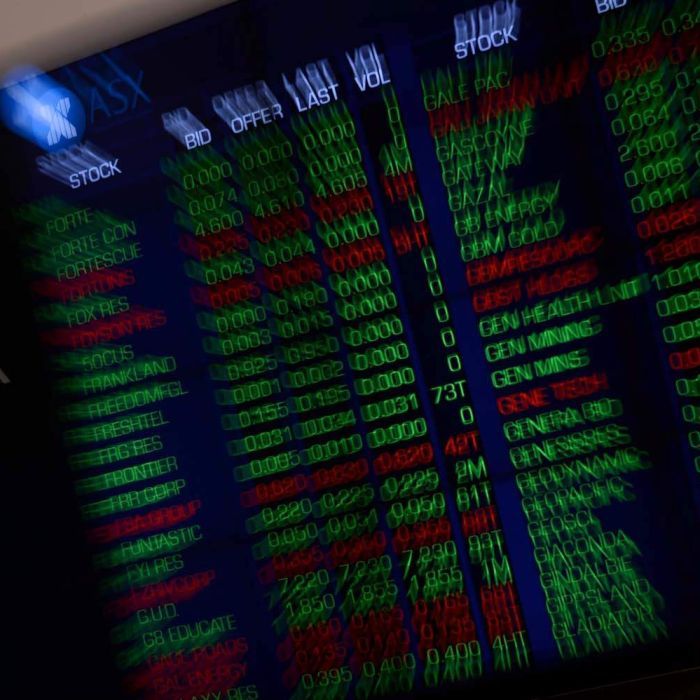 Share market closes high despite falls among miners, banks
Updated

May 30, 2016 18:52:43

Australian shares held near a nine-month high despite falls among miners and banks.
The All Ordinaries Index was up two points to 5,472 while the ASX 200 was steady at 5,406.
Energy stocks rose as oil prices held around $US50 a barrel.
Woodside Petroleum gained 1 per cent or 27 cents to $28.10.
But mining and bank stocks were weaker, with Rio Tinto falling 0.33 per cent or 14 cents to $44.69, and BHP Billiton losing 13 cents to $19.24.
Gold miners slumped after the chair of the US Federal Reserve, Janet Yellen, told investors to expect another rise in interest rates in the coming months.
Newcrest Mining lost 1.5 per cent to $18.82.
National Australia Bank fell 0.33 per cent.
Frozen food maker Patties Food jumped nearly 18 per cent to $1.57 on a $230 million takeover bid from Pacific Equity Partners.
Cleaning firm Spotless rose more than 5 per cent to $1.15 after it reaffirmed its profit forecast and said it may sell its cleaning business.
Mining company Alumina said it has serious concerns about the impact of a demerger plan by US partner Alcoa on their bauxite and alumina joint venture, Alcoa Worldwide Alumina and Chemicals.
Alumina said it would press for a resolution of the issues in a manner that protects shareholders after its shares were flat at $1.44.
In economic news, the Bureau of Statistics said before tax profits fell 4.7 per cent, it was seasonally adjusted for the March quarter and was worse than predicted.
Company profits fell 8.4 per cent over the year on a seasonally adjusted basis but UBS economists said they expected profits to pick up down the track because of lower interest rates.
Commodity prices fell as the greenback rose on Ms Yellen's comments.
Spot gold fell to around $US1,204 an ounce and Brent crude fell in futures trade to just over $US49 a barrel.
At 5:00pm (AEST) the Australian dollar was buying 71.7 US cents, 49 British pence, 64.5 Euro cents, 79.8 Japanese yen and $1.07 New Zealand.
Topics:
business-economics-and-finance,
gold,
First posted

May 30, 2016 18:43:10