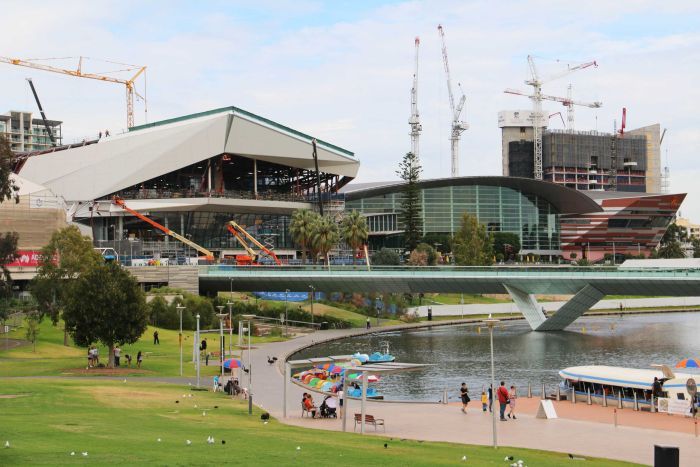 'Gold-plated' developments in Adelaide as Torrens riverbank transforms
Updated

May 14, 2016 09:37:26

Adelaide may be undergoing a transformation with major road and utility works but experts have questioned whether taxpayers are getting value for money on high-cost builds and grandiose designs.
Key points:
Professor says building costs remain too high after the resources boom
New Royal Adelaide Hospital among the world's most expensive buildings
Economic stimulus through construction a priority above value-for-money
Curtin University Professor Peter Newmann said infrastructure costs in Australia had "gone crazy" and construction expenses did not reflect economic conditions.
"It's the one area of life that seems to have considerably increased in costs," he said.
"Everything else is fighting to keep costs down but road and rail construction costs have just ballooned and ballooned.
"It seems to be uncompetitive. It seems to be gold plating in ways that seem ridiculous."
Professor Newmann was a member of the board for Infrastructure Australia in its first four years and said he had been watching road and rail costs increase exponentially.
He said the resources boom put upward pressure on labour equipment, material and costs but since the resources bust, those costs had not come down enough.
Adelaide is home to several major road infrastructure works, including an O-Bahn extension into the CBD, and the $620-million Darlington Upgrade and $896-million Torrens to Torrens project – two sections in its 78-kilometre North-South Corridor.
In the CBD's east, the new $2.1 billion Royal Adelaide Hospital (RAH) is due to open in November, and will provide 800 beds.
It is the fourth most expensive building in the world, according to international building database, Emporis, and is being built in a state with a population of just 1.7 million people.
Better Infrastructure Initiative executive director Garry Bowditch said there was every reason to question cost issues "because the project selection process and supporting analytics that produced these decisions were not well scrutinised".
"Too often governments and the community fall into the trap of wanting the economic stimulus of the construction and ask questions about value for money too late," he said.
"Transparency of cost benefit analysis supporting the project is essential, but rarely fulfilled."
In 2013, the Business Council of Australia said Australia's hospitals were 62 per cent more expensive to build than in other OECD countries, while shopping centres were 43 per cent more expensive and schools 26 per cent.
Mr Bowditch said cost pressures on infrastructure had since reduced, but there were "deep inadequacies in ensuring how we choose the right project, and in turn how much it costs".
"There's a strong institutional bias to build the mega project, when all the empirical evidence suggests we should be adopting the position that small is beautiful," he said.
'Forecast demand' a driver behind major infrastructure
Engineers Australia infrastructure spokesperson Chris Warnock said there were a number of reasons why infrastructure "may be perceived as catering for greater than is absolutely necessary".
This included forecast demand and planning horizons, as well as "future-proofing allowances".
"If the concerns refer to non-competitive construction costs, then it may be relevant to the procurement processes adopted," Mr Warnock said.
The new RAH is surrounded by construction for nearly $1 billion worth of buildings to complete a health and biomedical precinct in the city's West End.
Further east from the hospital, Adelaide's riverfront is being transformed with a $397-million Convention Centre expansion, a $90-million Festival Centre refurbishment, and behind it, a $610-million Festival Plaza upgrade is being planned.
One architect recently made a remark to the ABC about the massive amount of steel being used in the Convention Centre expansion.
University of SA Construction Economics senior lecturer Timothy O'Leary said architects would always have strong opinions about design features and a building's engineering.
"The truth is, there is a trend [nationally and internationally] to want the best in terms of facilities and not skimp and build more modest facilities," he said.
He said an argument for top-shelf facilities included its forecast operating profits and whether building better facilities would generate more income.
Mr O'Leary pointed to the refurbished "premium-type" Adelaide Oval that opened in 2013 as a successful example.
'No explanation' on building figures
Professor Newmann said one of the problems was governments not having to explain their figures.
He pointed out the $2.1-billion Sydney light rail project was costing about $175 million per kilometre to run 12 kilometres in its CBD – more than $100 million per kilometre above what it cost to lay a railway line to the southern suburbs of Perth a decade ago, which "included two bridges and a tunnel".
Professor Newmann expected the project's high cost was due to it also fronting as "a service duct renewal project" for ageing utilities on George Street but said it was worth getting governments to "explain their costs properly".
"They estimate these costs, and low and behold, the consultants get virtually those same costs," he said.
A spokesperson for the NSW Transport Department said the complexity of building a light rail in the CBD, where a "spider web" of utilities sometimes 200 years old need to be relocated, could not be compared to a putting heavy rail "across the state".
David McArdle is a consultant for project and asset management for both government and the private sector.
He said he was not informed enough to say whether new projects were over-engineered or not, but with projects like the Convention Centre, it came down to the fact governments wanted a "huge space that was appealing, so there might be some complexities in its engineering".
He said adding creativity to a building increased costs significantly but building more value-engineered projects, such as projects built during difficult economic times during 1980s and 90s, risked being criticised for blandness.
SA Transport and Infrastructure Minister Stephen Mullighan said the Government's projects followed a "competitive evaluation process" to get the "best possible price".
He said long-term benefits must "outweigh" the financial investment and short-term benefits, such as supporting local jobs and businesses during construction, were also considered.
Mr Mullighan added the Emporis list including the new RAH was "incorrect" and did not include a host of buildings more expensive, including Marina Bay Sands in Singapore, Cosmopolitan of Las Vegas – the most expensive Casino ever built, Abraj Al Bait in Saudi Arabia, City of Dreams in China, and other buildings.
Topics:
business-economics-and-finance,
First posted

May 12, 2016 06:43:04