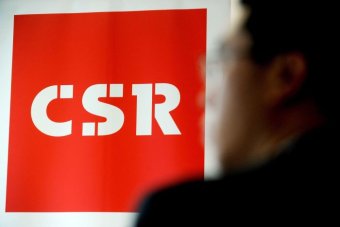 CSR profit, shares jump on housing boom
Posted

May 11, 2016 12:36:35

Building products maker CSR has reported a strong 13 per cent lift in full-year profit on the back of a solid growth in housing commencements.
Underlying earnings of $166 million were comfortably ahead of the consensus forecasts from analysts and the best result since CSR's sugar business was spun-off in 2010.
Net profit also rose by 13 per cent to $143 million, pulled down by one-off transaction costs involved in a brick-making joint venture with Boral and asbestos compensation related provisions.
Pre-tax earnings from the building products division jumped 40 per cent, helped up by stronger prices and higher volumes.
Overall housing commencements grew by 12 per cent to 217,000 in the year to March, with stronger conditions in New South Wales, Queensland and Victoria offsetting weakness in the other states.
The company's troubled glass-making division Viridian showed signs of a turnaround with pre-tax earnings up from $3.1 million to $8.1 million on an 8 per cent increase on revenues, while the aluminium business returned a fairly flat performance.
CSR chief executive Rob Sindel said residential construction markets are continuing to experience record levels of activity which will support demand for the company's building products into the year ahead.
"CSR's financial position remains strong with net cash of $73.1 million underpinning the share buy-back of up to $150 million (launched last month) and boosting our capacity to invest in additional growth options as they emerge," Mr Sindel said.
CSR raised its full-year dividend to 23.5 per cent, up 18 per cent from the year before.
Investors welcomed the result, with CSR shares rising 4 per cent to $3.63 by midday (AEST).
Topics: