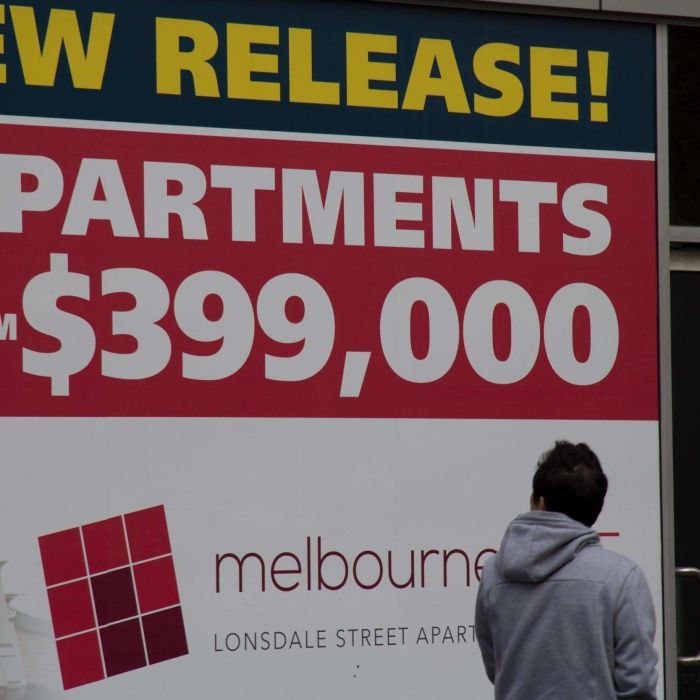 Apartment settlement risk soaring as overseas buyers restricted
Updated

May 13, 2016 14:42:43

There is a growing risk that new apartment buyers will not complete their purchases due to a high-rise glut, falling prices and a drop-off in foreign buyers.
Key points:
Forecast of 231,129 unit completions over next two years
Sydney, Melbourne and Brisbane dominate unit build – 206,710 between them
Foreign buyers either banned from getting loans or required to have 30pc-plus deposit
Australia's apartment building boom is yet to pass its peak, with analysts at CoreLogic RP Data predicting that the peak of apartment completion will not be reached until next year.
Over the next 24 months, CoreLogic expects 231,129 units to be completed, which compares with average annual unit sales of 108,144 over the past five years.
This means that there will be almost 14,000 units built in excess of typical demand in any given year.
This may not sound too dramatic, but CoreLogic researcher Camron Kusher points out that the unit sales figures include both new and existing, and new stock usually accounts for a smaller slice of sales than existing.
"The large volume of new stock, coupled with an ever-growing supply of existing stock, means that historic high levels of unit settlements are due to occur over the next two years in most cities," he noted.
"In fact, even a recurrence of the peak year for sales in Melbourne and Brisbane over the next two years wouldn't represent enough demand to cater for all of the new units set to settle over the coming 24 months."
Melbourne, Brisbane, Sydney apartment surge
The inner-city areas of Melbourne (14,353), Brisbane (10,189) and Sydney (9,376) are set for the biggest supply of new units.
Brisbane, Sydney and Melbourne also have the most suburban apartments due for completion over the next two years.
Most of that new stock in Brisbane and Melbourne is within 10 kilometres of the city centre, while Sydney's apartment boom is more geographically spread.
This glut is expected to put significant downward pressure on prices, meaning that many people who have put down deposits will find their units worth less when it is time to settle than they were when the initial contract was signed.
This may lead some to walk away from their deposits voluntarily, or be forced to because they find their bank will only lend them an amount based on the current, lower market value.
Bank crackdown on foreign buyers
Another significant group of buyers is also likely to face difficulty getting sufficient finance to settle.
Foreign buyers currently make up an estimated 12 per cent of new home sales, and many of them have been getting finance for their purchases from local banks.
However, all four major banks, and many of their rivals, have significantly tightened lending criteria for non-citizen/non-permanent resident borrowers.
Westpac has gone as far as an outright moratorium on lending to overseas buyers, although temporary residents can still borrow money (but not for vacant land), Australians with non-resident spouses cannot get a loan.
For those earning foreign currency income who are still eligible to get a loan, they are only able to borrow 70 per cent of the property's value.
ANZ has a blanket ban on loans to people who earn 100 per cent of their income overseas and a maximum 70 per cent loan-to-value (LVR) ratio for those who earn more than half their income overseas.
The Commonwealth Bank is no longer accepting self-employed foreign income and has reduced the maximum LVR for temporary residents from 80 to 70 per cent.
NAB capped out the big four this week, with a 60 per cent LVR on foreign loan applicants as well as only counting 60 per cent of foreign income in loan serviceability assessments.
In addition, Citibank has restricted eligible currencies for foreign borrowers to count towards serviceability requirements as Canadian dollars, Danish kroner, euros, Hong Kong dollars, yen, New Zealand dollars, Swedish kroner, Singaporean dollars, South Korean won, Swiss francs, British pounds and US dollars.
These restrictions are expected to knock out many overseas buyers who could formerly get local loans.
For those buyers who have already put down a deposit on an off-the-plan apartment, there is a growing danger they will not be able to get finance to settle the purchase.
Combined with the glut of apartments set to flood the market, this additional settlement risk is likely to put severe downward pressure on unit prices.
Topics:
First posted

May 13, 2016 13:16:48