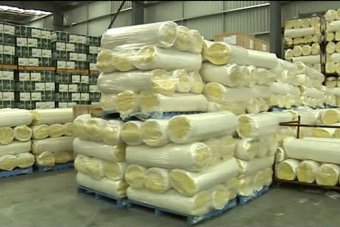 Pink batt businesses to take Government to court over lack of compensation
Updated

May 25, 2016 13:44:12

The botched Home Insulation Program, which dogged Labor during the last federal election, is now shaping up to be a headache for the Coalition Government.
Key points
50 companies seeking $120 million in compensation over scrapped pink batts insulation scheme
Rudd government cancelled the program in 2010 after deaths, fraud, poor oversight
Abbott government promised established a compensation but only paid out $13 million to 92 installers
A campaign to support a class action for businesses devastated by the sudden collapse of the government program is to be launched today.
It is claimed the payment scheme set up by the Coalition Government for affected businesses was woefully inadequate — and the plaintiffs are seeking more than $120 million in damages.
Matthew Hannam, whose company CIMCO has lost millions, is the lead plaintiff in the class action involving 50 businesses. His once-thriving insulation manufacturing plant in Brisbane lies mostly idle.
"We keep it running to stop the thing from basically falling apart," he told 7.30.
"We basically just get it up and running in case we ever get demand for the product again, which is not in the foreseeable future at the moment."
He's one of hundreds of business owners who fell victim to the collapse of the Rudd government's Home Insulation Program.
"It took a business that was basically operating since 1978, turned it upside down and destroyed it," he said.
But the anger is now turning to the Coalition Government, with accusations it failed to deliver on promises of compensation. And a class action is in the offing.
When the Rudd government introduced the program, it had ambitious plans to insulate more than 2.5 million homes in under three years. But it all came to a sudden halt in early 2010 because of four deaths, poor oversight and widespread fraud, sending many businesses to the wall.
"The government had literally hijacked our entire industry and started involving itself in areas that in had no understanding, no expertise, and that was only ever going to end in disaster," Mr Hannam said.
"They reassured us, they promised us and then they pulled out the rug from underneath us right at the height of the program."
Then-opposition leader Tony Abbott toured Hannam's factory — situated in the heart of Kevin Rudd's electorate — during the 2013 election campaign.
"Government shouldn't let people down," Mr Abbott said during the visit.
"I mean sometimes governments make mistakes but it should never leave people high and dry and that's what's happened in this case."
The Government has been deceitful: company owner
Three years after Abbott's visit, Hannam feels he has been abandoned by the Coalition.
"I think they've been deceitful," he said.
Independent senator Nick Xenophon said insulation businesses had been let down by both Labor and the Coalition.
"They are at their wits' end to get a just resolution to this nightmare," Senator Xenophon said.
"This whole issue become a political football for the Coalition, now they've been in power for three years they've done nothing to resolve it."
The Coalition delivered on its promise to set up a royal commission, but it also promised to help those businesses devastated by the failed program.
The Abbott government last year introduced an industry payment scheme, but payouts were limited to registered installers — manufacturers and deregistered companies missed out.
Mark Farrell, the lawyer running the case, said the Government had promised compensation.
"What was delivered was not compensation, it was extremely limited in numbers of clients and it excluded large numbers of both pre-existing and new businesses," he said.
Industry minister Christopher Pyne was unavailable for an interview, but a spokesman told 7.30 the scheme had paid out nearly $13 million to 92 businesses, which was in line with the recommendations of the royal commission.
"This compensation scheme doesn't match the rhetoric and promises of the Coalition," Senator Xenophon said.
"It is a compensation scheme that abandons all those legitimate businesses that have lost an enormous amount of money because of the shut down of the scheme, and effectively it has left people high and dry."
The liquidators of Mr Hannam's installation business did receive a pay out, but his manufacturing company got nothing.
"Compensating those who were damaged — that's where they should draw the line, and they haven't done that," he said.
Mr Farrell said his clients were not looking to win the lottery.
"All they want is fair compensation and that means compensation that relates to their actual losses — that is the Australian way," he said.
"A government needs to be held to same standard of behaviour as they require of their citizens and their corporate citizens.
"That's what our clients want."
Topics:
business-economics-and-finance,
alp,
liberal-national-party-queensland,
First posted

May 25, 2016 12:39:27