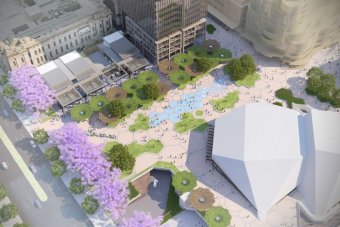 Agreement reached over Adelaide Festival Plaza redevelopment
Updated

May 26, 2016 15:59:52

A long-awaited multi-million-dollar revamp of Festival Plaza in Adelaide's CBD is set to proceed after a deal was struck between developers and the Government.
The Premier Jay Weatherill said the Government had reached agreement for a $430 million investment with property developer Lang Walker.
The redevelopment will include a 23-storey office building behind State Parliament, a retail area, car park upgrade and new plaza connecting with the Festival Centre.
It is expected to be completed in 2019.
"This will set the scene for this particular part of Adelaide to be the centrepiece of the Riverbank Precinct," Mr Weatherill said.
"There couldn't be a more important part of Adelaide and there couldn't be a more important part of our vibrant city strategy than to invest in the Riverbank Precinct."
A $300 million expansion of Adelaide Casino is also part of the project.
Construction and on-going jobs to be created
The projects are expected to create about 2,500 jobs during construction with 400 positions ongoing.
Mr Weatherill said they were transforming 5,000 square metres of "pretty unattractive public space" into 16,000 square metres of "high quality" public space that would attract people to the area.
"[It] will have a fantastic opportunity to capture people that are attending our beautiful cultural institutions, our sporting events, visitors who are coming from interstate and overseas to participate in conventions."
Taxpayers will contribute $180 million, with tenders today called for early works to lower Festival Drive – separating pedestrians from vehicles.
The Hajek sculptures by German sculptor Otto Hajek will be demolished, but the Infrastructure Minister Stephen Mullighan said there would be some recognition of the artwork in the redevelopment.
"Arts SA has been negotiating with the [Hajek] family about the removal and disposal of that artwork," he said.
"Importantly we've reached agreement with the family that we will ensure that part of the artwork and the sculpture will be retained in the plaza in some form."
Mr Mullighan said negotiations over the redevelopment had been complicated .
"This was not just a matter of government negotiating with one party, the developer, it was a matter of some of those parties negotiating with themselves.
"One of the key requirements was SkyCity needing to reach agreement with Walker so that they could lease 750 car parks for SkyCity."
Mr Walker said the project was the culmination of four years' hard work.
"We have a strong track record of creating projects where people can work and socialise, whilst delivering an excellent outcome for both the public and corporate tenants," he said.
The State Government said the redevelopment would cause some disruption to sporting fans, with an alternate route being provided to Adelaide Oval via North Terrace and the King William Street bridge.
Opposition spokeswoman Vickie Chapman has demanded the Government release the Festival Plaza contract and said not enough detail had been released.
"We have an evasive Government as to who has prepared this contract and as to the terms of that contract," she said.
Master Builders chief executive officer Ian Markos said the project would lead to more projects and jobs in the CBD.
"Our concerns have always been around the lack of activity following the end of substantial work on the new Royal Adelaide Hospital," he said.
"Activity on Festival Plaza should trigger more activity along that stretch, which in turn should create more confidence in Adelaide and its future."
Topics:
First posted

May 26, 2016 14:18:38