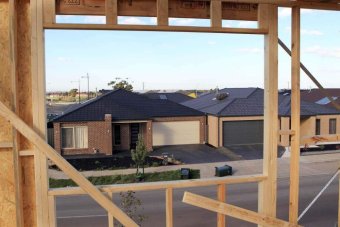 New home sales fall, auction clearance rates decline
Posted

May 30, 2016 12:23:01

New home sales have fallen and auction clearance rates have also eased, signs that Australia's housing market is gradually cooling.
The Housing Industry Association's (HIA) data on new home sales showed a 4.7 per cent fall in April compared to the previous month, seasonally adjusted.
Detached house sales declined 3 per cent, while apartment/multi-unit sales dropped 10.8 per cent.
Four out of the five mainland states recorded declines, with only Victoria posting a rise on the back of a 14.3 per cent jump in detached house sales.
HIA economist Diwa Hopkins said the retreat is modest, considering the record levels of home building over the past couple of years.
"The trend in new home sales reiterates that the peak for the cycle has passed, but the descent we're now observing is very mild," she wrote in the report.
"This signals the potential for very healthy home construction activity throughout 2016, much as we have been anticipating.
"This overall trajectory of total new home sales is consistent with our long-held expectations for new home building activity.
"Our forecasts reflect an expectation that a modest decline in new home building in 2016 will be largely driven by a decline in multi-unit construction, following the successive record levels that occurred in 2015 and 2014."
Auction clearance rates ease slightly
As new home sales continue their trend downwards from record highs, they are being mirrored by decline auction sales of existing properties.
CoreLogic's data for the most recent weekend puts the average national capital city clearance rate at 68 per cent.
That is down slightly from 68.9 per cent the week before, but CoreLogic also noted that last week witnessed the fourth highest number of properties being auctioned this year, at 2,419.
However, that number was down on the same week last year when 2,792 properties went under the hammer with 78.5 per cent of them sold, with over 80 per cent clearance rates in Sydney and Melbourne.
Clearance rates in Sydney and Melbourne were 75 and 70.8 per cent last week, both around 10 percentage points below their respective levels of a year earlier.
Topics: