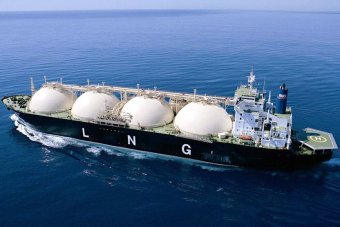 LNG glut 'will continue for years' as demand falls, supply surges
Updated

June 09, 2016 07:00:57

The global liquefied natural gas (LNG) market which Australia has pinned much of future economic fortunes on will remain over-supplied and stricken with low prices until at least the end of the decade, according to the International Energy Agency.
Key points:
Australia has invested $200 billion in the sector
IEA slashed forecast for gas demand for fourth year
Gas consumption to decrease by 1.5 per cent by 2021
Global market demand stagnating
The IEA's annual medium term Gas Market Report for 2016 released in Paris overnight makes for grim reading for Australian gas exporters, their investors and the Federal Government who are hoping for a strong revenue stream flowing from the massive $200 billion worth of investments in the sector.
The IEA, which is the principal independent energy advisor to the developed OECD nations, has slashed its forecast for gas demand for the fourth consecutive year.
It found growth gas consumption would decelerate to 1.5 per cent between 2015 and 2021.
This compares with 2.5 per cent growth over the prior six years and the 2.2 per cent growth over the previous decade when it was believed gas was heading for a golden age of high demand and solid prices to support the massive investments being made globally.
In absolute terms, demand is forecast to increase by around 340 billion cubic meters.
Over medium term, global LNG export capacity is forecast to increase by 45 per cent between 2015 and 2021, 90 per cent of which originates from the United States and Australia.
"Barring any significant supply disruption, markets will struggle to absorb these incremental supplies," the IEA warned.
Currently four of the seven big new LNG plants sanctioned in Australia have commenced production.
The wave of start-ups is likely to see Australian gas production almost double from 2015 levels of almost 80 billion cubic meters to 153 billion cubic meters in 2021.
Lower generation, cheap coal and renewables growth crushing LNG demand
The ongoing pain the gas producers will endure results from the massive surge of supply about to hit the market being not particularly responsive to tumbling prices and the simple fact the world is becoming increasingly less energy intense and demand is falling.
"Slower generation growth, rock-bottom coal prices and robust deployment of renewables constrain gas's ability to grow faster in today's low-price environment," the IEA said.
"Reversing a long-standing trend, gas usage in power is projected to grow more slowly than total demand; its share of incremental demand falls to one-third compared with almost half between 2009 and 2015."
The IEA finds little respite in any global market.
"Europe's flexibility to take in additional LNG is limited by slow demand growth, cheap coal, and competitive Russian supplies.
"Demand in Japan and Korea — which today account for almost 50 per cent of global LNG imports — is forecast to stagnate or even decline sharply depending on the scale of nuclear comeback in Japan."
Latin America and the Middle East are marginal markets at best, and pinning hopes on China to bail out the gas producers looks a forlorn hope with infrastructure bottlenecks and regulatory hurdles limiting the growth in its demand.
While Asian demand, including China, is forecast to increase by more than 100 billion cubic meters by 2021 the IEA said it still would not be sufficient growth to bring the market back into balance, and that is one of the better scenarios.
There are far worse potential problems that would push the gas glut out well beyond the time frame of the IEA report's forecasts.
"Should the implementation of environmental policies be slower than expected, the expansion in Chinese gas demand would also be much slower; were gas demand growth in China to stabilise at 2015 levels, there would be no need for incremental imports throughout the end of the decade. In this case, the oversupply in global gas markets would extend well into the 2020s," the IEA noted.
Spot prices crash as long term contracts rewritten
The report also found increased evidence of large buyers who have found themselves over-contracted with supplies renegotiating contracts to lower prices and volumes, as well as pushing excess supplies into the spot market and forcing prices down there as well.
Spot prices in the key Asian market have tumbled 75 per cent from $US20 MBtu (million British thermal units) in early 2014 to below $US5 MBtu currently.
The producers will have little alternative to just survive through several tough years and even then improving conditions are unlikely to deliver anything like the returns expected when the new capacity was commissioned.
"LNG liquefaction plants will need to run below capacity, as demand growth will not be sufficient to balance the market, particularly during 2017 and 2018," the IEA found.
"Utilisation will recover by the end of the forecast period but will not be back to the high levels of 2011-12."
"For new projects in particular, this suggests that returns on investments will be low for some years."
Topics:
business-economics-and-finance,
First posted

June 09, 2016 06:16:52